LOS ANGELES, CA – FUEL TV premieres UFC ROUNDTABLE: THE ANALYSTS (part 1) on Friday, January 11 (10:00 PM ET). Host Jay Glazer is joined by Kenny Florian (UFC TONIGHT analyst), UFC Light Heavyweight Brian Stann (UFC ON FOX/UFC ON FUEL TV analyst), former UFC Light Heavyweight Champion Rashad Evans (UFC ON FUEL TV analyst), and UFC Light Heavyweight number-one contender Chael Sonnen (UFC ON FUEL TV analyst).
The four athletes-turned-analysts discuss their experiences balancing careers as fighters while serving as analysts for UFC shows across FUEL TV, FX and FOX in a candid, ligh-hearted and sometimes humorous conversation. Glazer asks questions ranging from the difficulty of commentating and analyzing fights to how fighters feel about their critiques. The analysts reveal the hardest parts of being on TV, the moments in their careers they wish they could take back, insecurities they have with fighting and being in front of the cameras, and advice to future fighters trying to break into the MMA world.
Evans admits that being in front of TV cameras can be just as nerve-wracking as stepping into the Octagon: "The first chance I got to work as an analyst was working with Kenny, and [he] was killing it. Kenny was so good, [he] was like lead host and I was like, 'it looks so easy.' But when I got in front of the cameras, the words just didn't come out. I started stuttering. I had all kinds of speech impediments I didn't even know I had."
Sonnen voices the same sentiment by explaining that being an analyst is much harder than it looks like on TV: "A lot of people don't understand, we have an earpiece in and a director is talking to us. It's so hard to keep your cameras, listen to what's going on here and get the direction from the boss in your ear."
Although some fighters are uncomfortable with receiving criticism from the analysts, Stann embraces the critique he gets from his fellow fighters: "We've all had to critique each other. We've had to do postfight shows and analyze each other. I've never once gotten mad. In fact, I looked after my last fight to see what was the analysis from my fellow fighters? They're in a better position than I am to gauge what I did wrong, how can I get better from that? Especially with the guys that are up here, these are guys who I've trained with, who I've fought, I've known for a long time now. I respect their opinions and so I reach out to them."
The most seasoned analyst of the group, UFC TONIGHT's Kenny Florian, shares his appreciation for being on TV and educating MMA fans: "I never thought about [being on TV]. I wish I could say I did, but I did not. Even before THE ULTIMATE FIGHTER went on TV, I said, 'there is no way this is going to end up on TV. There is no way.' But sure enough it did and became a success and the sport has been growing so much. I think it's great that we have that ability to not only educate the fans, but communicate our viewpoints as fighters, [which] has been rare for our sport for a long, long time."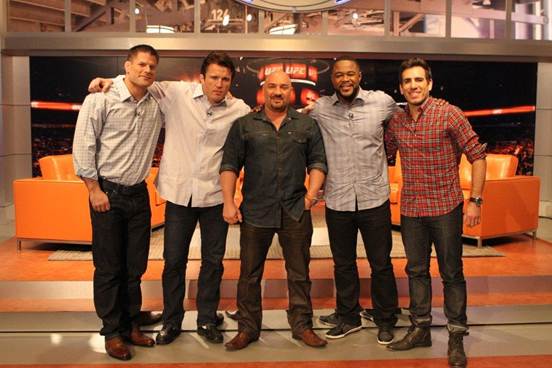 This is the sixth edition of UFC ROUNDTABLE. Earlier UFC ROUNDTABLE editions looked at UFC Champions, Legends and top UFC welterweights. Look for FUEL TV to continue to get exclusive, inside access to the most important figures in the UFC through upcoming UFC ROUNDTABLES.
For more information, go to: http://www.fuel.tv/ufcroundtable
For a complete listing of FUEL TV shows, go to: http://www.fuel.tv/schedule. For more information, go to www.fuel.tv/ufc and on Facebook at: www.facebook.com/fueltv. Follow on Twitter at: @FUELTV
To get FUEL TV on your television, go to www.fuel.tv/getfueltv, or call 877-4 FUEL-TV.