WILMINGTON, DELAWARE (Feb. 8, 2013) – Welterweight Dusty Hernandez-Harrison, of Washington, D.C., kept his undefeated record intact when he scored an emphatic 3rd round knockout over former Golden Gloves National Champion Kelly Wright of St. Louis. The stoppage came at 1:39 of the 3rd round in a bout that Hernandez-Harrison dominated from the onset.
With the win, 18-year-old Hernandez-Harrison improved his record to 12-0 with seven wins coming by knockout.
Hernandez-Harrison, who was recently named the 2012 prospect of the year by StiffJab, is slated to be back in action on February 23 at the Bally's Event Center in Atlantic City, N.J.
"I felt good out there and just want to continue improving with each fight", said Dusty, who finished his Thursday classes at College of Southern Maryland just in time to travel to the weigh in for the bout. "He was a crafty guy so I tried to stay patient in there and let the knockout come and that's what happened," added Dusty. "This was a great experience fighting in Wilmington and the fans were great. Hopefully I will fight in Delaware again in the future."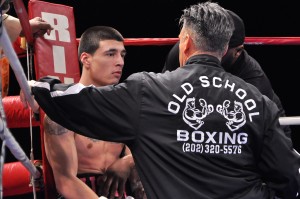 It plans to be a busy 2013 for Hernandez-Harrison, both in the ring and in the classroom. "I thought Dusty looked good and he was patient," said Buddy Harrison, Dusty's Father and trainer. "Jeff told us at the beginning of the year that it would be a busy first few months and Dusty is preparing hard," added Harrison.
Opportunities are already being created for Dusty to fight for a youth title within the next 18 months. "We want Dusty to get many different looks in the ring and in front of different crowds so that he gains those intangible experiences also necessary to become a World Champion," said Dusty's Advisor, Jeff Fried.
"I am looking forward to my next bout in Atlantic City on the 23rd, and I will be ready for the next challenge," added Dusty.