By Boy Blue P. Filomeno
Did Pacquiao play opossum in Part IV?
Why Juan Manuel Marquez expresses disinterest in a fifth encounter with arch rival Manny Pacquiao?
Could it be that JMM has 100 reasons that he kept close to his chest?
Even his trainer Nacho Beristain and hall of famer Marco Antonio Barrera expressed great surprise of his knockout victory in Part IV.
"I never thought Juan could knock out Pacquiao. Juan is not a (power puncher). He is a very precise fighter, and hits hard but not violently. He gets you with three shots in a row at the tip of the chin and he hurts you, but not like (what happened with the punch that hit Pacquiao). What happened was a phenomenon," Beristain told Boxing Scene (printed in Sun Star).
In an interview by ABS-CBN, when he visited the Philippines recently, Barrera said, "I was surprised that Marquez knocked out Pacquiao. Marquez did not do anything new in training. He used the same punches."
Let us dissect Pacquiao's fights leading to a duel with Marquez.
His encounter with Shane Mosley was labeled as the "Most Boring Fight"; Marquez cried "Robbery" in Part III; he lost a won fight versus Timothy Bradley.
There are some questions that needed some answers in the Pacquiao-Marquez IV.
Marquez is not known to be a one punch knock-out artist. Yet, Pacman was knocked down in the third round by a right cross to the face.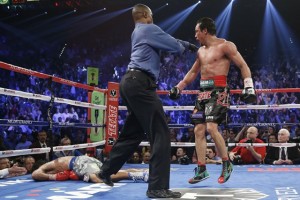 Pacquiao playing opossum?
The People's Champ's strength is a combination of crosses and hooks, to knock his opponent. However, in the 5th round, Pacman's single left straight wobbled Marquez for a standing 8 count.
From the fifth round, to the sixth, Marquez was visibly hurt. He was cornered, battered while his nose and mouth were bloodied. With few seconds left, he delivered a short right cross that sent Pacman to dreamland.
Looking closely, when Marquez executed the punch, his legs were steadily fixed in the canvass. A blow is more lethal, if it was executed simultaneously while the feet is moving forward.
Manny is not an eight division champ for nothing. He is a veteran warrior and has received the worst punches of heavier boxers like Clottey, Cotto, Margarito, yet he survived. The fighting Sarangani congressman is an intelligent fighter and to fell into the trap of Marquez is mind boggling.
No great champion in history, who was leading by a big mile, suddenly lost by one knockout punch in earlier rounds.
The fate of Pacquiao was a deja vu of a one round knock out victory of Marquez against Likar Ramos in 2011 at Plaza de Toros, Cancun. Marquez hit Ramos by a right hand in the face. Many criticized Ramos for acting unconscious when his butt hit the canvass.
In the Pacquiao-Marquez IV undercard, Michael Farenas and Yuriorkis Gamboa, both received vicious punches to the face, fell to the canvass, beat the count and continued fighting.
There is only one boxer in history that I remember that fell flat on his face in the ring. It was Roberto "Hands of Stone" Duran, when he lost via second round knock out against Tommy "The Hitman" Hearns.
But it was a series of endless bombs by Hearns that stopped Duran, just like like the United States silenced Hiroshima and Nagasaki with atomic bombs in World War II; not a solitary punch like what Marquez did to Pacquiao.
Duran was leaning on the ropes and there was no other place for him to go but face down. He was an easy target for a taller Hearns, who aimed his crushing right cross to the left side of Duran's face, at the same time, moving his right foot forward. However, Duran was conscious, though struggling. Thus, "The Hitman" retained the WBC super welterweight crown in 1984 at Caesar's Palace.
Video of Tommy Hearns knocking out Roberto Duran

In the recent fights, Oscar Salido knocked Juanma Lopez, after series of vicious blows. Same is true to what happened to Fernando Montiel, when he was knocked out coldly by Nonito Donaire. Yet, Lopez and Montiel were awake and tried to stand.
Was Pacquiao really unconscious when he was knocked down or did he act opossum? Isn't it logical for the body to follow the head? Marquez hit Pacquiao with a right and the latter's head moved backwards. Yet, Pac Man's whole body collapsed forward. How come?
When the camera was focused, the fallen Pacquiao was moving in the canvass face down. Is this an evidence of losing unconscious?
Everybody rushed to the ring. Somebody tapped Pacman's face and he opened his eyes. Next, he was seated in the canvass, then transferred to a stool while a physician examined his eyes.
Later, he was smiling, walking around, as if nothing happened and accepted Bob Arum's declaration for a fifth fight. The plot could reach ten fights, as long as the public watch it.
A number of boxers have died and critically injured in the ring. If indeed, Pacquiao was knocked out unconscious, just like what happened to Ricky Hatton in his hands, a medical team could have given him an oxygen, stabilize him for a minimum of ten minutes, put him on a stretcher, an ambulance will rush him to a nearby hospital. But all of these needed medical attention were completely absent. Why?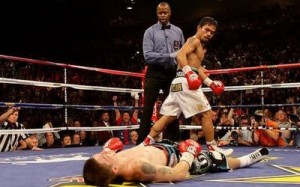 Hatton knocked out cold was rushed to the hospital.
Not an ounce of concern was shown on Arum's face, on the fate of his ward, Pacquiao. He was more interested of the multi-million dollar bonanza. As the cliché goes, "Boxing is business."
Were the millions of paying public treated to a cruel joke of a so-called last second knock-out? Will the boxing fans watch the forthcoming Part V? My dear readers, make your choice.
(Filomeno is author of an ebook,"The Manny Pacquiao Files" at http://pacmanfiles.com)
Got an Opinion? Submit Your Articles and Press Releases to be posted on NowBoxing.com
*Please refrain from leaving any Racist, Profane or Derogatory comments*