Inside the ring, Puerto Rican female boxer Amanda Serrano (17-1-1, 12 KO's) has already captured world titles at featherweight and super featherweight division. As a result of this, Serrano's agenda is full. "Training for this fight was harder than usual because we were having commitments outside the ring, such as lots of 10 to 12 hour photo shoots for Latin Trends Magazine, Fuzion Magazine, Xex Magazine and Blastdanation Magazine. Also we participate in a music video by rapper Loaded Lux featuring Redman and Method Man. We have two new sponsors, beverage '989 OnDemand' and 'How Charming2', all of this is possible thanks to Ms. Penny Saintil, who is helping us a lot" said Amanda, a native of Puerto Rico, and currently lives in Brooklyn, New York.
This Saturday, June 29 at the Resorts World Casino in Queens, New York, Serrano will fight against Dominga Olivo (8-7-1, 0 KO) in a six round bout at 130 pounds. "Dominga is a highly experienced veteran, who was three times Golden Gloves and national champion in the United States. She is strong, and with great heart as Ela Nunez (Puerto Rican boxer). We are not worried one bit though, we run on Puerto Rican blood, our will & pride will not deceive us. Puerto Rico can count on the Serrano sisters to keep our male tradition in the female side. We will die in there to make our beautiful people proud. Come Saturday, the island will add one more victory" said Amanda Serrano.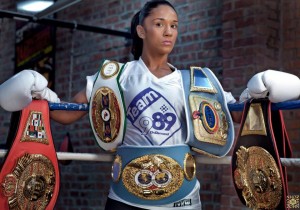 At super featherweight division (130lbs), Amanda is ranked # 1 by the International Boxing Federation (IBF), # 2 by the World Boxing Association (WBA). In the World Boxing Council (WBC) is ranked # 5 at the featherweight division (126lbs). Her older sister, Cindy (18-5-2, 8 KO's) is ranked #4 in the super
featherweight by the IBF, and # 5 in both WBA and WBC.
On September 10, 2011, Amanda became the first female boxer in IBF history to win a super featherweight world title by defeating Kimberly Connor (10-2-2, 4 KO's) by way of knockout in the first round. Later, on February16, 2013, Amanda captured the featherweight Universal Boxing Federation (UBF) and Women's International Boxing Association (WIBA) world titles by defeating Dominican localist, Wanda Pena Ozuna
(8-5, 2 KO) by TKO in the first round.
Music Video: Loaded Lux featuring Method Man and Redman with cameo appearance by the Serrano sisters