Former heavyweight champion David Haye was cut over the left eye during an intense sparring session for his upcoming fight with Tyson Fury on September 28. The cut needed to be stitched up and due to severity of it the fight was postponed.
Haye posted a statement on his website telling fans how devastated he is over the situation. He specifically apologized to those fans who paid for tickets and booked hotel rooms for this fight because he knew how much they were looking forward to the Haye vs. Fury bout.
Tyson Fury also apologized to fans via Twitter but also took a parting shot at David Haye "Sorry for every1 who bought tickets & hotels. Haye excuses r boring. He don't want to fight me!"
Photo of David Haye's cut injury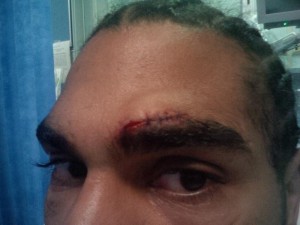 The winner of the Haye vs. Fury bout was looking forward to fight the winner of the October 5th heavyweight championship bout between champion Wladimir Klitschko and Alexander Povetkin.