The biggest boxing event of the year is Floyd Mayweather vs. Saul "Canelo" Alvarez a battle between two undefeated superstars, and a fight that will only have one victor walk out with the WBC and WBA belts and the other suffering his first professional defeat.
Mayweather is the reigning pound for pound king of boxing and his skills are unquestioned, but his opposition is the only thing that people have criticized him for, and fighting Canelo Alvarez proves to the world that he isn't taking on soft touches.
Canelo is Mexico's biggest star and quickly approaching mainstream notice, with his flaming red hair and freckles people have mistaken him for for a young Irish lad but don't let the boyish looks fool you this guy is an experienced Mexican boxer at only 23 years of age.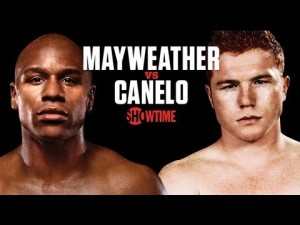 The co-main event will be an explosive one, with undefeated Philadelphia fighter Danny "Swift" Garcia taking on devastating power puncher Lucas Matthysse of Argentina, this is a fight you don't want to miss.
Floyd Mayweather vs. Canelo Alvarez starts at 9:00 p.m. ET/ 6:00 p.m. PT on September 14 on Showtime PPV (Contact your local cable, dish provider for details)