Floyd Mayweather and Manny Pacquiao two of the biggest superstars in boxing were in attendance at the Miami Heat vs. Milwaukee Bucks basketball game on Tuesday night, both were sitting court side and later met face to face for the first time.
The two fighters have never met before and are rumored to finally make the super-fight that has been 5 years in the making happen.
They exchanged numbers and shook hands. The Mayweather vs. Pacquiao fight has been negotiated several times only to never materialize. This time around Bob Arum and Pacquiao agreed to all of Mayweather's terms and were just waiting for Floyd to give the go ahead and the two networks HBO and Showtime to workout TV and Pay-Per-View rights for the possible May 2, 2015 showdown.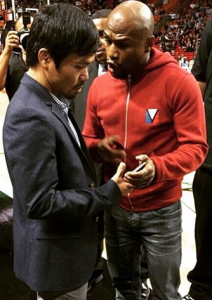 After tonight's meeting it seems the mega fight is closer than ever and can only be seen as a positive sign.
Rumor has it that an announcement for Mayweather vs. Pacquiao could be made sometime this week or on Sunday during the Seattle Seahawks vs. New England Patriots Super Bowl game.