By Freddy Fresco
Amir Khan has a Floyd Mayweather obsession, he is deluded to the point of believing that Floyd is ducking him in favor of Manny Pacquiao. Khan has been giving out interviews claiming Pacquiao is flawed and he is hinting at little moves that Manny makes in the ring, hoping that someone in Mayweather's camp reads them to help Mayweather beat Pacquiao so he can be the one take Mayweather's zero and get all the glory.
Khan needs to focus on Kell Brook, that is the fight the boxing world wanted to see and will be a mega fight in the UK. Brook is now in a power position, he has a legit title, and Khan has nothing, yet Khan thinks he can demand next in line to fight the winner of Mayweather vs. Pacquiao. The man is a warrior for sure but he comes off like a spoiled brat, you can almost sense how bitter and mad he is that Pacquiao landed the Mayweather fight over him. If he were rational and thinking in reality he would know the world wants Mayweather vs. Pacquiao not Khan vs. Mayweather, the only one who wants to see Khan face Mayweather is Amir Khan himself and his hardcore fans.
Kell Brook who owns the IBF welterweight championship belt by beating Shawn Porter, was chasing a fight with Khan for years only for Khan to ignore him and telling Brook to get his name up and he doesn't deserve to fight him. Well that arrogance from Khan has comeback to bite him in the butt because Brook doesn't need Khan anymore, Khan will need him, and I hope when Khan comes begging for a shot that Brook tells him to take a hike.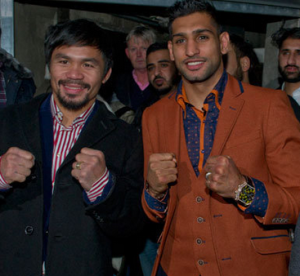 The winner of Mayweather vs. Pacquiao should fight Kell Brook next, not Amir Khan. Khan has to work his way up to get a chance, and he had his chance when Kell won the belt and offered Khan a shot at the title, but, Khan still wanted the fight on his terms and acted like the champion Brook was nothing but a peasant.
If Amir Khan were serious he would be begging the winner of Kell Brook vs. Jo Jo Dan for a fight so he can win a legit welterweight title and prove himself worthy for the right to face the winner of Floyd Mayweather vs. Manny Pacquiao.