By Charlie Knoxville
The official press-conference to announce the Floyd Mayweather vs. Manny Pacquiao mega bout was a boring one. It isn't what everyone expected after years of trash talking coming from Mayweather and his team, he decided to be mum.
What I noticed during this press conference was how nervous Floyd Mayweather looked. It was as if he was trying to psych himself up to not be scared or someone forced him to be there. It gives credence to the comments Manny Pacquiao made weeks ago to media that Floyd was forced into this fight and had no where to run.
I have never seen Floyd this nervous during a presser, most of the time he is talking confident or talking smack. I truly believe Manny Pacquiao has gotten in Floyd's head. Floyd has a phobia of the small power punching Filipino and his body language, nervous voice and mannerisms show it. He was also drinking from an empty cup over and over, that is a nervous thing when you keep doing something like constantly sip water and getting dry mouth.
The Mayweather fanatics can also try to psych themselves into believing that Floyd intimidated Manny at the Miami Heat basketball game but when they met up in the hotel room, Floyd could barely look into Manny's eyes.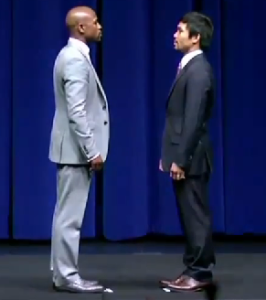 The boyish smile from Pacquiao shows the confidence and desire he has to defeat Mayweather. It's like he has a secret and he can't wait to reveal it on fight night. He loves challenges and when he is the underdog he comes out on top in a big big way.
This public meeting was very telling. The Mayweather fanatics were hooting and hollering that Pacman who is always boyish and timid looking was shook by Floyd. They made all of this up from seeing a few pictures of Floyd head and his back at a basketball game. They reached for the skys to make their hero seem like he was the intimidator. All that talk they talked is nothing, tell yourself whatever it takes to build confidence, because Pacquiao already has that confidence he doesn't need constant praise or reassurance. Floyd can't even go on ESPN First Take because he doesn't want to be criticized by Skip Bayless, while Pacuqiao has went on the show several times and Stephen A Smith has mocked and disrespected Pacquiao each time making fun of him being knocked out and saying Pacman has no chance at beating Money May. All Pacquiao did was laugh and enjoyed it, that right there is a man who is secure and confident and doesn't let anyone get in his head, while Floyd refuses to let anyone with a difference of opinion speak to him.
I expected much more from the much anticipated press conference, I have a feeling Floyd might try to stink up the joint on fight night as well and play it safe with the hit hold, and run tactic.

I am an avid fan of boxing and video games. My first fight of memory was watching Prince Naseem Hamed destroy Kevin Kelly. I enjoy all aspects of the sport. My favorite current boxer is Manny "Pacman" Pacquiao. My favorite boxing match is Diego Corrales vs. Jose Luis Castillo 1. I love watching boxing on Pay-Per-View more than being there live because you can really enjoy and watch the action from the best view.