Heisman winning football player Tim Tebow dropped by the Wild Card boxing club in Hollywood, California on Saturday to visit Manny Pacquiao and watch him train for his upcoming May 2nd fight against Floyd Mayweather Jr.
Tebow was impressed with Pacquiao's training, and after the workout he took pictures and talked with Manny and his trainer Freddie Roach.
Pacquiao who is well known for his Born Again Christianity called Tebow his brother in Christ on his Instagram page, Tebow also posted a photo up with Pacquiao and called him his fellow Filipino brother. Tebow was born in Makati, Philippines, and does missionary work including opening The Tebow CURE Hospital in Davao City, Mindanao.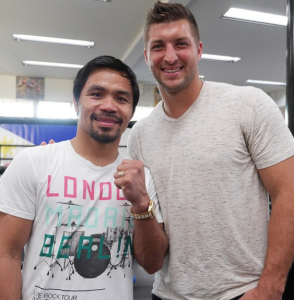 Tebow last played in the NFL as a back up Quarterback for Tom Brady and the New England Patriots before being cut from the team in August of 2013. He now works as a college football analyst on ESPN.