Salem, NH (April 10, 2016) – Super bantamweight contender Luis "Orlandito" Del Valle of Bayamon, PR scored a dominant second round stoppage over local favorite Josh Crespo Saturday, April 9 at Rockingham Park in Salem, NH.
With a standing room only crowd on hand, Del Valle pressured Crespo early in the opening round and found a home for right hands. In the second, Del Valle continued to connect with clean shots including a perfectly placed hard overhand right to Crespo's temple that sent him crashing to the canvas. The game Crespo got up and immediately stumbled back to the canvas but incredibly made it back to his feet before the count of 10. Seconds later, Del Valle swarmed his badly hurt foe and landed a number of punches until Crespo's corner threw in the towel at 2:17.
"I knew early in the first round that I was the stronger fighter and would be able to hurt him with my punches," Del Valle said after improving his record to 21-2 with 16 KO's. "I give him all the credit in the world for stepping up to fight me and having tremendous heart. I thought the referee was going to stop it because I've never seen a fighter get knocked down, stand up, fall again then get back up in less than ten seconds."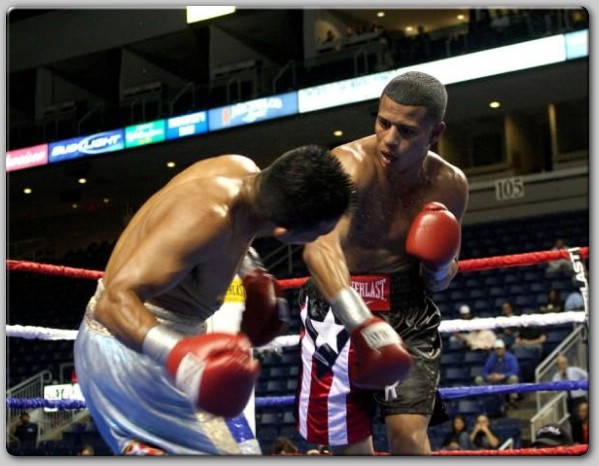 Del Valle who scored his third consecutive stoppage since losing a controversial decision to Luis Rosa, is confident that he'll land another bout against a top fighter in the very near future.
"I did what I had to do last night and it's onto bigger and better things. In my mind, Darchinyan is the only fighter to defeat me and I've grown a lot since then. There are many great fighters at 122 pounds that I'd love to get in the ring with and I'm confident it will happen soon."
Del Valle's next bout is scheduled to be televised and formal details will follow shortly.
Fans can interact with Del Valle on Twitter @Orlanditoboxing or Facebook.com/Orlandito-Del-Valle-111406195543360.