By Ludwig O. Daza
Bob Arum laments on the dismal Pay-Per-View performance of Manny Pacquiao vs. Tim Bradley match. Having been in the business for so long enough to know what the fans want, he presumably thought the match would still sell. When the PPV numbers came out, he knew he was terribly mistaken.
But fans knew well that when Arum announced Tim Bradley as the next opponent for Manny Pacquiao, it hardly generated excitement. I have seen their previous fights and in those 24 rounds, nothing in there indicated that a different outcome would play out. Even with trainer Teddy Atlas barking instructions in Bradley's corner, people knew the outcome would still be the same.
These two fighters are superb defensively. While from the start of his boxing profession, Bradley has been very good in his defense, Pacquiao, on the other hand, was one-dimensional and a whirlwind of an offensive fighter – always moving forward and looking for his left hand to deliver a haywire attack.
Pacquiao's defense though evolved when he and Freddie Roach collaborated. Moreover, a draw and loss in the hands of Juan Manuel Marquez and Erik Morales forced Pacquiao to develop his right hand, more as a defensive weapon – with a potent right hand displayed against Ricky Hatton, foes are not anymore as enterprising when pushing back Pacquiao.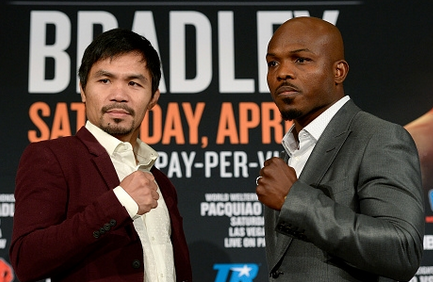 Pacquiao's defensive evolution became complete in his fight against Oscar De La Hoya. He made mincemeat of De La Hoya's vaunted converted southpaw stance by darting in and out of his range. Flabbergasted, De La Hoya quit on his stool.
Bradley's balance and quickness and ability to withstand near knockdowns are his signature defense. While his mettle was tested by Jessie Vargas and Ruslan Provodnikov, it was his fight with Juan Manuel Marquez where his defensive skill-set shown. I thought Bradley did better against Marquez than Floyd Mayweather.
In his last two fights with Pacquiao, Bradley proved that he can hurt Pacquiao. And when he partnered with Teddy Atlas to knockout Brandon Rios via a body punch, it sort of sent a message to future opponents that he is now an improved and dangerous fighter with Atlas at the corner.
Since that earth-shaking knockout suffered in the hands of Marquez, Pacquiao became extra careful in his style and approach to attacking. The offensive juggernaut that ran roughshod over opponents in the featherweight division has become wary and methodical.
For Bob Arum to pair these wizened fighters whose styles have graduated to that of chess grandmasters make for a boring fight, not to mention that their two previous fights, when summed up, are not compelling enough to stage a trilogy.
It's no wonder that the streets of Manila were full of traffic during the Pacquiao vs. Bradley rubbermatch. We've been used to seeing the streets deserted whenever Pacquiao fights because the people are glued to the television sets. But this time, most of the Filipino fans didn't wake up early to catch the match in real time. They were satisfied watching the replay that they know they've seen already years before.