It seemed as though Amir Khan was the only person who truly believed he could actually jump up two weight classes. He was also possibly the only person who believed he could actually beat one of the top fighters in that class. Brave or bold?
The Canelo Alvarez vs Amir Khan fight was virtually speed vs power and transpired exactly how most people predicted. Khan would jab, provoke and hope to out box the sensational Saul "Canelo" Alvarez, but realistically a big hit was always there and Khan was put out of his misery in the sixth round. Khan is due an awful lot of credit for the fight, with Alvarez promoter Oscar De La Hoya saying "Amir Khan is one of the bravest fighters in the world, maybe he's too brave for his own good."
What will be more frustrating for Khan, is that his strategy was actually working. The Brit had managed to cause Alvarez enough problems, and there were beginning to be questions over whether the Mexican could actually break Khan down. It looked like Khan was having things go his own way after appearing to win the first four rounds with his boxing prowess. But as the man from Bolton found out the hard way, one big hit in heavier divisions is enough to land you flat on your back.
So what next for Khan?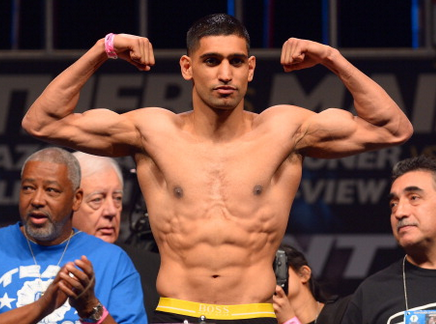 Khan has to first make a decision about his weight class. It looks as though the middleweight division is beyond him, as a boxer who turned pro in the lightweight there is no shame in this. But it could be damaging for Khan to drop the required 8lbs into welterweight, which means a good prospect is the light-middleweight.
Kell Brook
Kell Brook looks like the most likely fight on the cards. It has been an unfortunate couple of years for Khan, who was first led to believe that he would get to fight the greats of Manny Pacquiao and Floyd Mayweather. Khan has always said that Brook is not at his level, yet after suffering three cold knock outs, his cross Pennine rival might be the best option for Khan to regain some stature. It would also give Khan the opportunity to become a two-weight world champion.
Danny Garcia
Khan was already the mandatory challenger for the WBC welterweight title which is held by Garcia. This would be a perfect opportunity for Khan to exact revenge on the man who beat him in 2012. Unless the remarkable happens and Floyd Mayweather comes out of retirement, this will be another world title fight for Khan.
Timothy Bradley
Before Khan's fights against Garcia and Peterson, Bradley-Khan was the one that everyone wanted. It would have been a fantastic light-welterweight contest. Bradley was last defeated by Pacquiao and a win the for Brit could open some big doors for Khan. On the flip side if he were to lose a match of this magnitude it could have a detrimental effect on his career.
Miguel Cotto
Miguel Cotto last fight was also against Alvarez and like Khan it ended in defeat. Khan was set to fight the Puerto Rican before Alvarez took him on. It would be a big match and holds lots of potential for Khan, as the smaller fighter, defeat would also not be so costly to his stature in the boxing game.
There is no doubting Khan's ability and he has had a very successful career. His loss against Alvarez was a big disappointment, but it showed his dedication and desire to succeed in boxing.