Muhammad Ali, the Greatest Heavyweight Champion of all time, after a long battle with Parkinson's disease, has passed away at the age of 74 on Friday, June 3, 2016 in Phoenix, Arizona with family by his side.
Ali was not only a boxing champion, but he was also a civil rights champion. He was vocal during the civil rights movement and was fighting for those who didn't have a voice. He used his fame and status as a champion boxer to bring attention to the mistreatment of blacks and other minorities in America.
Known for his charming and boastful personality, Ali, was loved by people from all over the world. He would light up a room with his smile and colorful persona, he loved people and will forever be the champion of the people.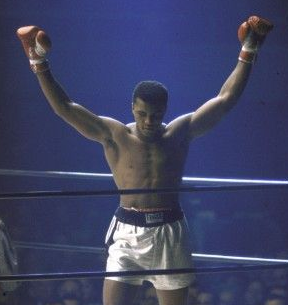 Inside the boxing ring he was a fearless warrior, known for his ability to float like a butterfly and sting like a bee, he was a heavyweight that moved like a lightweight and fought all of the toughest guys in his division, he was a rare breed of fighter, even as a champion he sought out the scariest and toughest opposition because he wanted to prove he was the greatest.
Bob Gunnell the family spokesman said the funeral will be held in Louisville, Kentucky the hometown of Ali.
Rest in Peace, Muhammad Ali, "The Greatest of All Time" 1942-2016