By Lou "Cinder" Block
For years the boxing world had to hear the annoying question of who would win Floyd Mayweather vs. Manny Pacquiao? The knowledgeable fans like myself all knew that Floyd would school the Top Rank hype job, but the gullible casual fan who bought into the hype all thought Pacquiao would win by KO. It was laughable.
After Mayweather put a one sided boxing lesson on the supposed Fight of the Decade, the Pacquiao fan exodus began, the casuals either acted like they never backed Manny or claimed that Manny actually won the fight and all Floyd did was run and hold.
Even more embarrassing was the slow motion replay angle. They were desperate and refused to acknowledge that their hero was nothing more than a media created hype job who was carefully matched by Top Rank against either weight drained fighters at catchweights or over the hill boxers coming off losses.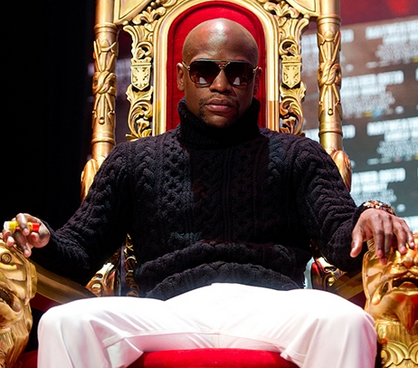 I personally don't hate Pacquiao, but I had to endure his rabid fanbase for years. It was justification when Mayweather had his hand raised and beat Manny by wide score cards. I had it a shut out, but I have a bitter taste in my mouth from the poor sportsmanship of Manny Pacquiao, I expected better from him. After the fight he claimed he won, and later revealed that he had a shoulder injury but didn't tell the commission while trying to sneak and get a very strong Toradol pain killer shot injected to numb up his arm. A real man would have just said Floyd was the better boxer and moved on and gave him props, but Pacquiao and his few fans left live in denial, claiming Floyd ran and that he wasn't 100 percent.
I first rejected the idea of a Mayweather vs. Pacquiao rematch, but after a while I thought to myself, how awesome would it be to see Manny Pacquiao lose again to Mayweather? Especially after his fans were bigging him up after his useless rubbermatch victory over Tim Bradley. They claim his shoulder has healed, and he would beat Mayweather in a rematch.
I kinda feel bad for the denial these type of fans are in. Each time Pacquiao has a fight coming up every prediction is Pacquiao by knockout, newsflash, Pacquiao has yet to knock anyone out since Ricky Hatton in 2008. Ever since he was called out by Floyd to take drug testing he never had the same type of power or ferocity, I wonder why?
Manny Pacquiao was never the hero the media made him out to be. In a Mayweather rematch, he might actually quit this time around just so he can collect a paycheck and not have to go through further punishment because Mayweather is not going to go easy on him the second time around, he will really put an ass whooping on Miss Pacman after all those excuses he made to discredit Floyd.