Floyd Mayweather or Money May as his fanboys love to call him, is at it again, pulling the old snake oil salesman approach to build up his farce fight against a UFC fighting champion Conor McGregor in a Boxing Match. I call Mayweather vs. McGregor the "Ultimate Cherry Pick" because that's what it is.
I've never seen a boxer like Floyd before, and I'm not talking about skill wise, I'm talking in cherry picking. The guy is the greatest BS artist in boxing, he gained power to control the outcomes of his fights by demanding every fight be in Las Vegas, and getting all of the advantages in negotiations.
Boxers like Muhammad Ali, George Foreman, Joe Frazier, Roberto Duran, Marvin Hagler, Manny Pacquiao, Oscar De La Hoya, Bernard Hopkins, all fought the best guys and wanted to test themselves against the toughest challenger because they were real fighters. Mayweather on the other hand already stated that he doesn't care about proving to the fans who the best is or testing himself against scary fighters like legendary fighters do, he said its about fighting smarter and not harder meaning cherry picking guys at the right time.
Floyd is known for worrying about his health when it came to Manny Pacquiao, and he finally fights him 5 years too late after the Pacman is no longer the ferocious fighter he once was. He fights a worn out Pacquiao who has been through grueling wars with bigger men and put to sleep by his main adversary Juan Manuel Marquez. To top it off he had a spy in their camp and fought an injured Pacquiao and refused to give him a rematch.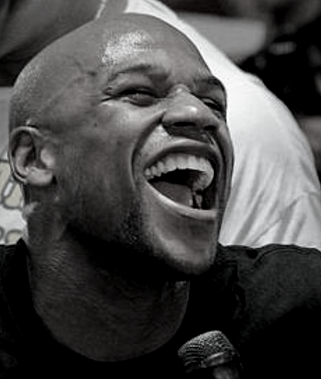 Mayweather wants to beat Rocky Marciano's record and the easiest opponent who will give him the most money is not a boxer, but a mixed martial arts fighter making his professional boxing debut. This is what you call a suckers spectacle and Mayweather is banking on the casual fans to once again fall hook line and sinker with the prefight hype and build up to dish out another $100 of their hard earned money to watch another boring sparring session.
The only one who is going to try and make the fight happen is Conor McGregor, I wouldn't be surprised if he gets so frustrated with Floyd's running around he body slams him to the canvas or judo tosses him in the clinch.
I don't see Mayweather losing this fight, he claims he will go for the KO we've heard this so many times before all his fights, he always does the opposite, his usual pot shot and move back while looking at the clock. If he does lose, his entire legacy is ruined and he will go down as the biggest fraud in boxing and con man. Losing to an MMA fighter aka the "Ultimate Cherry" in his pro boxing debut after you chased and called him out is embarrassing.
One things for sure after this fight both fighters will be laughing all the way to the bank counting their money.

I am an avid fan of boxing and video games. My first fight of memory was watching Prince Naseem Hamed destroy Kevin Kelly. I enjoy all aspects of the sport. My favorite current boxer is Manny "Pacman" Pacquiao. My favorite boxing match is Diego Corrales vs. Jose Luis Castillo 1. I love watching boxing on Pay-Per-View more than being there live because you can really enjoy and watch the action from the best view.