Deontay Wilder made a mistake in not taking up Sky Sports offer to commentate the Anthony Joshua vs. Joseph Parker heavyweight championship unification fight in the UK.
It would have been an awesome build up for the winner of Joshua vs. Parker to be sized up head to head with the WBC champion to hype up the undisputed showdown.
Wilder brings intimidation to the party, Joshua and Parker are both goody two shoes, clean-cut, well spoken and boring, the total opposite of Wilder who has Charisma and that mean streak in the ring.
You need to have some clash of personas when you build a fight, you can't just have two nice guys go head to head like Joshua and Parker, the fight could be exciting but the lead up is super boring and uninteresting.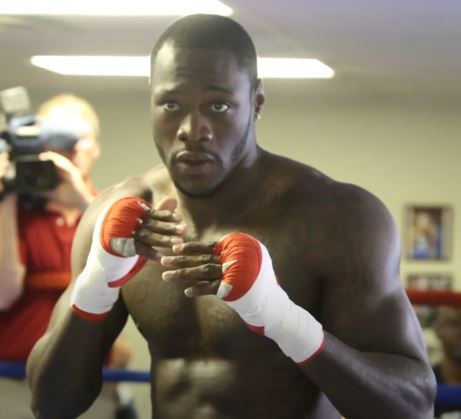 Like the Floyd Mayweather vs. Manny Pacquiao super fight, Floyd sold that fight, he has the personality and the trash talk, Pacquiao barely speaks English and repeats the same stuff over and over while laughing like a school girl. Floyd carried that build up and the promotion, if it wasn't for Floyd that fight wouldn't have done over 4 million PPV buys.
The only other heavyweight who has that swagger to him and is unique personality wise is Tyson Fury but his mind is gone and he ain't a threat anymore.
I don't even know if Joshua can get by Parker. Maybe this is why Deontay didn't show up? I think he knows Parker might have a good shot at beating Joshua and it would be a wasted trip because the big fight is Joshua vs. Wilder, a UK vs. USA showdown.
I suspect if Joshua wins he will continue to avoid the Wilder question and his promoter Eddie Hearn will say Wilder chickened out by not showing up to the fight and come up with more obstacles.
I'm telling you, they fear Wilder, they know all he needs is one shot on that shaky chin of Joshua and its lights out.
If they do call out Wilder it's just for show, to save face so they don't look like they are scared. I've told people don't believe the hype, beating a washed up past his prime Wladimir Klitschko is not the same as fighting a hungry young champion like Deontay who refuses to back down.
I'll be honest, I think Joseph Parker has more balls than Anthony Joshua, if Parker wins he would come to the States and unify with Wilder, if Joshua wins he will just hold the belts hostage in the UK.