If people doubted Amir Khan before this fight they will have to eat their crow now. The King is back, and he came back with a vengeance disposing of Phil Lo Greco in one round, he wasted him like he stole something.
It was a sensational performance, it barely lasted 40 seconds or so, but it was a real statement win. Although it would have been nice to see him go some rounds to get the rust off, I think he was so anxious to get back into the ring after such a long layoff he threw punches like he was a kid again and happy to fight.
I predicted Khan would win by boxing Lo Greco to a comfortable decision, but never expected this type of Mike Tyson ferocity out of Khan especially at his age.
This was a more offensive Khan, similar to the one who trained under offensive minded Freddie Roach, I believe his new partnership with Joe Goossen is a good one because Goossen is also offensive minded and made sure that Khan used his natural gifts such as handspeed and his energy to his advantage.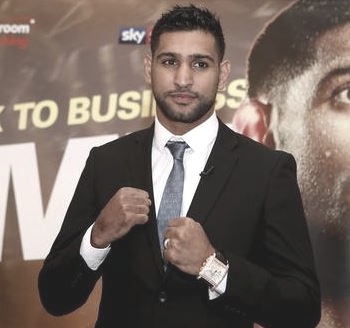 When Khan was under Virgil Hunter he was more cautious, Hunter tried to make sure that Khan didn't come in wild going toe to toe because he knew his chin wasn't the built for those wars. Something was missing with Khan under Hunter, he lacked the exciting style that made him a fan friendly fighter, now with Goossen you can see him back to his old ways of throwing punches from all angles and with speed and power.
I never thought Khan had that type of power, he hurt Lo Greco worse than Errol Spence did and finished him in faster time. It took Spencer a few rounds to dispose of him, but Khan took him out without even breaking a sweat.
Even Shawn Porter the muscular stocky slugger couldn't finish Lo Greco and had to go to a decision with him.
Amir enters the welterweight division putting the others on notice that he is back to business and he is serious about claiming titles.
What we saw tonight is Khan's power is still there, he just needed a trainer who brought it out of him again. This is the return of the King and his win just made the future showdown with Kell Brook even more intriguing.
Khan vs. Brook is a can't miss fight now, the interest is back, now all Eddie Hearn has to do is make the fight happen before we lose it again and one of them suffers another loss.