People always seem to root for the underdog, especially in the sport of boxing where undefeated Titans can fall in a single fight.
The upset is what many people love about boxing, the drama and the theater of the unexpected, they are waiting for that Buster Douglas moment when he knocked out the scary unbeaten Mike Tyson in 1989 to shock the entire world.
It's a David vs. Goliath type story, can the smaller man or underdog defy the betting odds and overcome the giant.
Vanes Martirosyan has the chance to do that on May 5th (Cinco de Mayo) on HBO, against the undefeated Gennady Golovkin.
This was a match up that only took place last-minute when Canelo Alvarez the original dance partner for GGG got popped for performance enhancing drugs, and suspended by the NSAC for 6 months.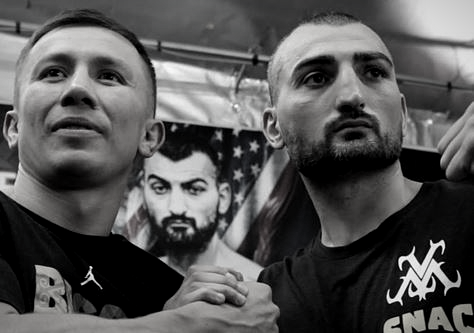 Instead of sitting on the shelf for another 6 months, Golovkin opted to continue with the May 5th date and move the fight to Carson, California at the Stub Hub, an intimate stadium that usually hosts Tennis games but has been commonplace for many boxing events.
The man who stepped in as a late replacement is 31-year-old Vanes Martirosyan. Vanes is a proud Armenian-American, who fought for the United States in the 2004 Olympics and is willing to test himself against the best.
Gennady Golovkin will only truly be tested when he loses that is what Don King who now promotes Martirosyan said during the presser for the fight. King was speaking with his promoter hat, but his statement holds truth, a fighter shows what he is worth coming back from a defeat.
Many fighters who were unbeaten and hyped up took a loss and couldn't handle it, but the greats like Muhammad Ali, Evander Holyfield, Roberto Duran, Manny Pacquiao, all came back from defeat to rise again and become champions.
One thing we know about Vanes is he is very quick and has the will to win, he has only 3 defeats all to top level opposition Erislandy Lara, Demetrius Andrade and the hard-hitting Jermell Charlo. The one aspect of Vanes is his ability to take a punch, he has yet to be knocked out, but that could change when he fights GGG.
The key for Vanes is to box, move box and counter, stay active and keep Golovkin at a distance. Vanes must stay busy and throwing punches to score shots, he can't sit back on the defensive like Canelo and just picking shots as he chooses.
Golovkin just has to be himself, and impose his will on Vanes, show him he is the bigger man and hit him to the body and head like typical GGG.
I am a big fan of Golovkin but I will be rooting for Vanes on May 5. I like the story of the underdog, and the fighter who becomes an instant star over night.