Deontay Wilder has a nickname and its called the "Bronze Bomber" and they call Tyson Fury "Gypsy King" the other guy Anthony Joshua has no nickname, but maybe he should be called "The Running Man" because he keeps on running from my boy Deontay Wilder.
It's crazy how a guy so muscular and big as Anthony Joshua is afraid to come to the USA to face the WBC world champion Deontay Wilder. All the greatest heavyweights fought in the US. Lennox Lewis would be ashamed of Joshua for not seeking out big fights in the states, even Tyson Fury came to the US to fight early in his career against Steve Cunningham.
Joshua's promoter Eddie Hearn keeps making it about money and other stipulations, but why you milking your fighter like Bob Arum milked Manny Pacquiao? I thought you were supposed to be the new wave or promoter to take over boxing, but instead you the same song and dance like the old promoters.
Anthony Joshua is big in the UK, but a true star will come to Las Vegas and fight there on Pay-Per-View. What does he fear is he going to be weak and lose confidence away from home? I know Deontay got the power and the chin, Joshua has a suspect chin, and his stamina is questionable.  He looked horrible against the smaller Joseph Parker and I felt he barely did anything and it could have went Parker's way but it was in AJ's hometown so we know which way the judges would sway.
Eddie Hearn did some type of online stream deal called DAZN, but if you want legit exposure you need to get a network deal with one of the major US TV networks not some online streaming app. The only way people will tune in is if they know that fighter, nobody knows who Joshua is in the US.
Wilder at least has a super fight on his way with Tyson Fury. The Gypsy King is the only man with the balls to step up but sadly he will get knocked out once he feels that heavy handed power. I gotta give him props though unlike AJ, Fury is not afraid to challenge himself and he will sell the fight and trash talk like crazy.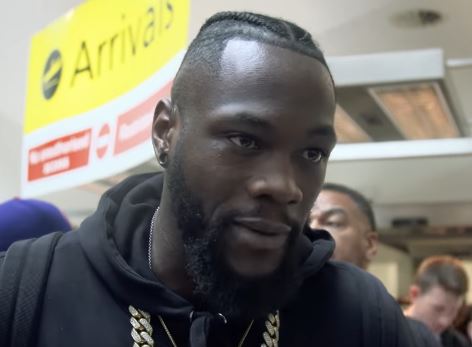 I can't wait to see the press tour for Wilder vs Fury, I hope they put them on ESPN and FOX sports and do a Showtime all access, both guys will talk that trash and really hype it up.
Anthony Joshua doesn't have that swagger or charisma to sell, he always plays the good school boy role, and kisses up to his master.
He will run and run and just defend his belts against whoever former Cruiserweights Hearn can bring up in weight from Eastern Europe to face him. While Wilder in his last fight took on the dangerous heavyweight King Kong Luis Ortiz and weathered the storm to knock him out.
Let us look forward to Wilder vs. Fury a true heavyweight battle between two undefeated warriors, leave AJ to pad his title defense record with easy opponents so he could fill himself with that UK money. He calls himself a champion but refused to travel to be a great international star and when he does lose to some cherry picked opponent who lands one on his chin, he better not come crawling to Wilder begging for a big money fight.