The biggest social media boxing event of the summer is about to kick off when YouTube superstars Logan Paul and KSI square off in the ring in the main event as brothers Jake Paul and Deji are the co-feature of the evening. The historic match takes places at the famed Manchester Arena in England on August 25 live on Pay-Per-View.
The fighters weighed in live on YouTube for the obligated weights and showed some prefight antics.
Announcing the weigh-in was the legend himself Michael Buffer who will also announce the fight on Saturday night.
Before the weigh-ins Jake Paul told Buffer he will go for a first round KO of Deji, and Logan Paul gave KSI some chewing gum telling the British gamer his breath smelled really bad.
The co-main event For the co-main event, Deji weighed in at 79kg (174lbs) with Paul weighing 82.5kg (181lbs) and the main event fighters "Maverick" Logan Paul weighed in at 86kg (189lbs) and KSI weighed 84.9kg (187lbs).
KSI and his brother Deji are two of the most popular YouTubers in England, they are known for playing video games and making funny videos, basically the British equivalents to Logan and Jake Paul.
KSI currently has a professional boxing record of 1 and 0, on February 3rd, 2018 he fought fellow YouTube Joe Weller in his boxing debut and the stream was viewed by more than 20 million, it took place at the Copper Box Arena.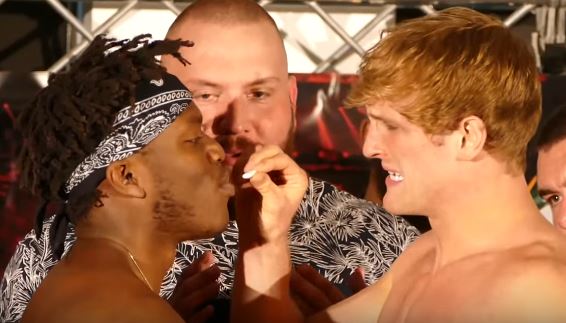 So the experience advantage goes to KSI, but the size and power will go to the much bigger Logan Paul, who wrestled in high school and college. Paul will need to use his power against the much quicker KSI.
Logan Paul and his brother Jake are two of the most popular American YouTube stars, both making millions a year off the platform and having successful music and acting careers. This will be their pro boxing debut.
Logan the elder brother had a bit of controversy that had his advertising momentarily suspended when he took his film crew to the Aokigahara Suicide Forest in Japan and filmed actual dead bodies, it caused an outrage online with people demanding Logan to be banned from YouTube for good because they felt he showed total disrespect by mocking the dead bodies.
KSI vs. Logan Paul, Deji vs Jake Paul, takes place live on Saturday, August 25, 2018 at Manchester Arena.