Terence "Bud" Crawford puts on another brilliant display of boxing on ESPN. He successfully defended his WBO welterweight title in front of thousands of cheering fans at the CHI Health Center in Omaha, Nebraska.
With all the trash talk and disrespect thrown his way by Jose Benavidez Jr. he managed to stay composed on fight night and never let emotions get to him.
The thing that impresses me most with Crawford is his ability to stay patient and stick to a gameplan.
We have to give credit to the challenger Benavidez Jr. he had his moments in the fight, making the first 5 or 6 rounds very close and competitive. He brought his A game for sure but it just wasn't good enough, he got tired and his output dwindled toward the end and Crawford systematically broke him down from there.
Toward the later rounds Crawford was keeping the range and made the taller fighter try to reach in with his shots missing most of them and only landing some range finding touch jabs on Crawford. He landed a few flush shots on the Omaha native but not enough to hurt him, Crawford eventually took control and starting walking the taller Benavidez Jr. down.
Anytime a fighter starts putting his back toward the ropes it means he is tired and ready to be taken out, it reminded me of when Oscar De La Hoya kept backing up to the ropes when Manny Pacquiao pressed him and walked him down.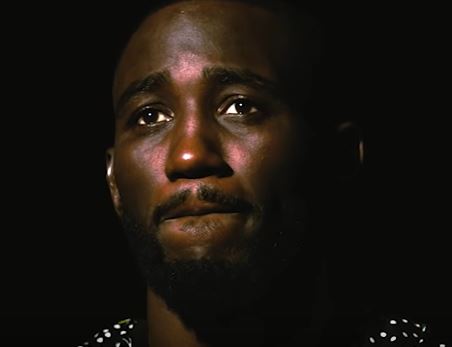 Eventually, De La Hoya quit from Pacquiao's pressure and in this fight Crawford knocked Benavidez Jr. out in the 12th and final round, he took him into the deep waters and drowned him.
Tonight showed what a talent Crawford is, even Warren Buffet was in attendance to root on his fellow Nebraska native.
Of all the fighters in the welterweight division, I rank Crawford at number one, followed by Errol Spence Jr. and Keith Thurman.
What I've seen from Crawford is another level of talent compared to the other two champions. The ambidextrous stance and the fight IQ is what sets him apart. Spence Jr. is a big and strong guy who fights with smart pressure, Keith Thurman is a good boxer-puncher, but Crawford is unpredictable. I call him the man of many styles because he can change it up on you at any point in the fight, one moment he is orthodox on the back foot the next he is throwing vicious combos walking you down from the southpaw stance.
I can't predict a winner yet, but all I hope for is the champions at 147 actually unify and fight each other to make boxing history.
It will be tough since Crawford is with Top Rank and Thurman and Spence are with Al Haymon and fight on difference networks.
If Bob Arum and Haymon put their differences aside and find a mutual agreement like they did with Floyd Mayweather vs. Manny Pacquiao and make the fights happen it would be great for boxing.
As of now we can only speculate how the fights between welterweight champions will go, and if they do happen it will be must see TV because these are 3 undefeated great American champions with tremendous skill.
This reminds me of the days of Marvin Hagler, Tommy Hearns and Sugar Ray Leonard.
Crawford, Spence and Thurman are putting American boxing back on the map.

I am an avid fan of boxing and video games. My first fight of memory was watching Prince Naseem Hamed destroy Kevin Kelly. I enjoy all aspects of the sport. My favorite current boxer is Manny "Pacman" Pacquiao. My favorite boxing match is Diego Corrales vs. Jose Luis Castillo 1. I love watching boxing on Pay-Per-View more than being there live because you can really enjoy and watch the action from the best view.