The Deontay Wilder vs. Tyson Fury was a good scrap, something the heavyweight division needed especially for those in the United States.
I respect Deontay Wilder for keeping his cool as long as possible when Tyson Fury was using his clown tactics to try to get under his skin. Fury is a court jester, he acts up and tries to piss you off with his loud mouth.
I don't really enjoy his antics at all, and during the fight he was really annoying with the hands behind the back antics, and the flickering tongue it was getting childish.
Boxing is a gentleman's sport and fighters should carry themselves in a gentlemanly fashion. The last thing we need is for more people to see boxing in a negative light.
I will give Fury credit he has heart to take those massive punches from a guy who hits as hard as Wilder, it is a testament to his toughness, but I wish he would carry himself a bit more classy.
He is a poorman version of Muhammad Ali and Prince Naseem. He doesn't quite move as fluid as Ali and his taunting antics are out-of-place and just come off awkward. I didn't mind the singing, he has a great singing voice I will give him that.
Maybe he should release a country music album next?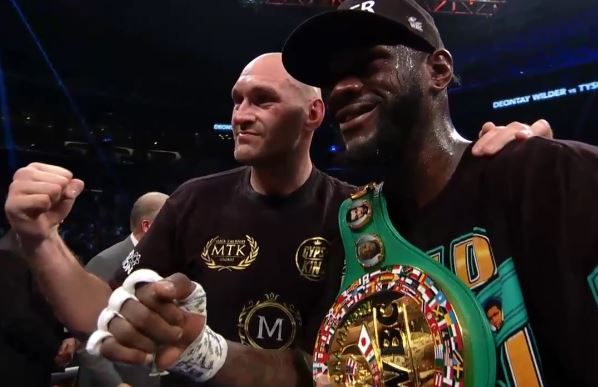 As far as the fight goes, Deontay Wilder was befuddled by the feints of Tyson. Tyson was slipping and avoiding almost all the wild telegraphed shots of the Bronze Bomber. During the post fight presser Wilder claims he was overshooting the right hand and forgot to throw body shots to slow Fury down.
Wilder is a wild puncher with very little defense and a good chin, Fury is an orthodox mover with heart but no killer instinct.
Fury gave the fight away when he failed to follow-up on the times he stunned Wilder, instead he steps back and lets Wilder recover or he ties up with him. The lack of killer instinct is why Fury can never be as great as legends like Ali, Mike Tyson, Joe Frazier, Lennox Lewis, and George Foreman, if they hurt you they will try to finish you with combos.
Fury is a big kid who never grew up. I give him so much praise for overcoming his demons and depression, but in a rematch I fancy Deontay Wilder to stop him.
The antics after the fight were embarrassing, these two grown men still had to take shots at Anthony Joshua, claiming they were the two best heavyweights in the world and not AJ.
I think Anthony Joshua is the best Heavyweight right now. The way Wilder and Fury insulted him was like two jealous high school girls, these two guys spoiled a great night of boxing with that chicken taunting antics hurled at Joshua, you just had an amazing fight why throw dirt on a man who is just minding his business and wasn't even there?
It sounds like jealousy.
Don't hate on a man who gets love from his country and has fans. Joshua will fight both and in due time, this ducking talk is ridiculous.
At the end of the day boxing is a business and the fight will happen, Wilder's side just has to be fair and realistic and his asking price will be determined by how well his Pay-Per-View numbers are for the Tyson Fury fight.
If the Wilder vs. Joshua fight does happen, logically you have to favor the more technical Joshua, all Wilder has is a punchers chance.