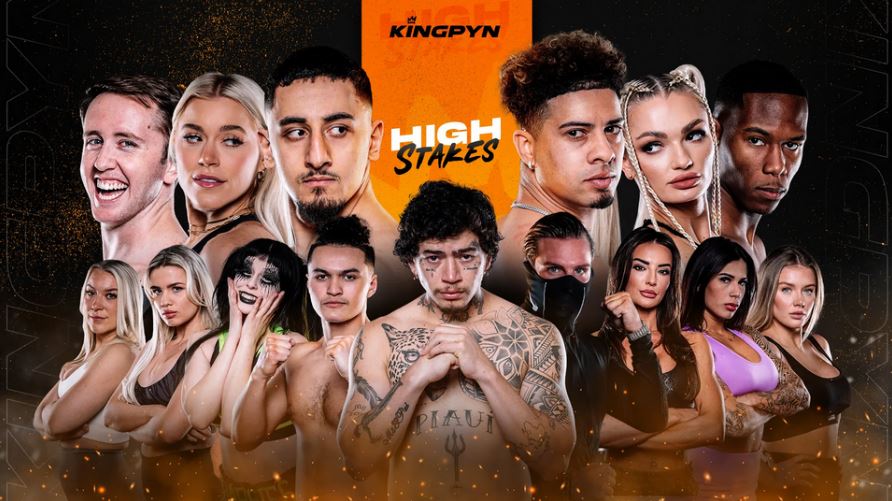 Kingpyn High Stakes Tournament Quarter-Finals: AnEsonGib Gib vs. Austin McBroom II and Blueface vs. Ed Matthews fight card takes place on April 22, at the OVO arena in London, England with a FREE live stream countdown show on YouTube.
The tournament style event will have a men's and women's quarter finals with the winners moving to the semi-final round in Dublin.
In the main event popular British YouTuber AnEsonGib will rematch American YouTube star Austin McBroom in a quarter finals bout.
AnEsonGib who has grown since his early days in the social media boxing events, pulled off an amazing upset when he survived an early knockdown to drop Austin McBroom multiple times and knocking him out in Los Angeles on the Social Gloves event in 2022.
McBroom wants redemption and said he was sick and not fully in top condition heading into their first fight, he vows to get revenge on Gib.
AnEsonGib who came in muscular and shredded is ready to repeat his victory with another stoppage of McBroom to end any excuses.
LA based rapper Blueface last fought in the ring against content creator Kane Trujillo on the Bare Knuckle FC event in 2021. He won the bout by decision and now he takes on British TikToker Ed Matthews.
Ed Matthews knocked out 52-year-old Simple Simon on the Kingpyn boxing event last summer and now he aims to knockout the American Rapper in a wildcard special feature bout on Saturday night.
The KINGPYN WATCH PARTY & PRE SHOW High Stakes Tournament Quarter Finals Live Stream on YouTube at 11:00 AM ET / 8:00 AM PT on Saturday, April 22, 2023.
Kingpyn High Stakes Fight Card
AnEsonGib Gib vs. Austin McBroom
Elle Brooke vs. Aleksandra Daniel
Blueface vs. Ed Matthews
Whindersson Nunes vs. Filip Marcinek
Daniella Hemsley vs. Jully Oliveira
Jarvis Khattri vs. Tom Zanetti
My Mate Nate vs. King Kenny
6ar6ie6 vs. Whitney Johns
Emily Brooke vs. Amber O'Donnell
The Kingpyn High Stakes Tournament Quarter-Finals starts at 2:00 PM ET / 11:00 AM PT and will be live streamed on Kingpyn Pay-Per-View. For more information on how to watch the fight visit: https://kingpynboxing.com/