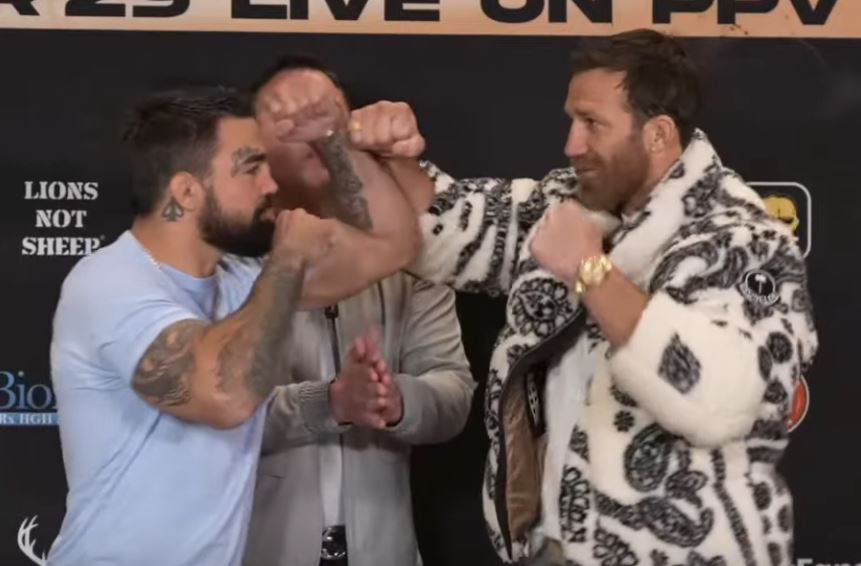 Luke Rockhold and Mike Perry are both highly accomplished mixed martial artists who have transitioned to bare-knuckle fighting under the BKFC banner. The two combatants will go head to head at BKFC 41 on April 29 in Colorado.
The fight between these two is highly anticipated due to their reputations as fearsome strikers, and the potential for a brutal, hard-hitting contest.
Luke Rockhold is a former Strikeforce and UFC Middleweight Champion, and he boasts a 16-5 professional MMA record. He is known for his grappling skills and his dynamic striking, which combines powerful kicks with accurate boxing. Rockhold is also a highly intelligent fighter who is adept at adjusting his game plan mid-fight.
Mike Perry, on the other hand, is a former UFC welterweight with a 14-8 professional MMA record. He is a knockout artist who is known for his aggressive style and his heavy hands. Perry is also a highly charismatic figure who has built a significant following with his outspoken personality and his willingness to take on all challengers.
When these two fighters meet in the BKFC ring on April 29, fans can expect a clash of styles that should provide plenty of fireworks. Rockhold will likely look to utilize his superior footwork and technical striking to outmaneuver Perry and set up his takedowns. Perry, meanwhile, will be looking to land his big power shots and impose his will on Rockhold with his aggressive forward pressure.
The absence of gloves in bare-knuckle fighting means that the damage inflicted by each strike is likely to be much more severe than in traditional MMA or boxing bouts. This could lead to a quick finish if either fighter is able to land a clean shot to the head or body.
The outcome of this fight is tricky to predict. Rockhold is the more technically skilled fighter, but Perry's power and aggression make him a dangerous opponent for anyone.
It will be fascinating to see how these two fighters match up in bare-knuckle fighting, and which man emerges victorious when the dust settles.