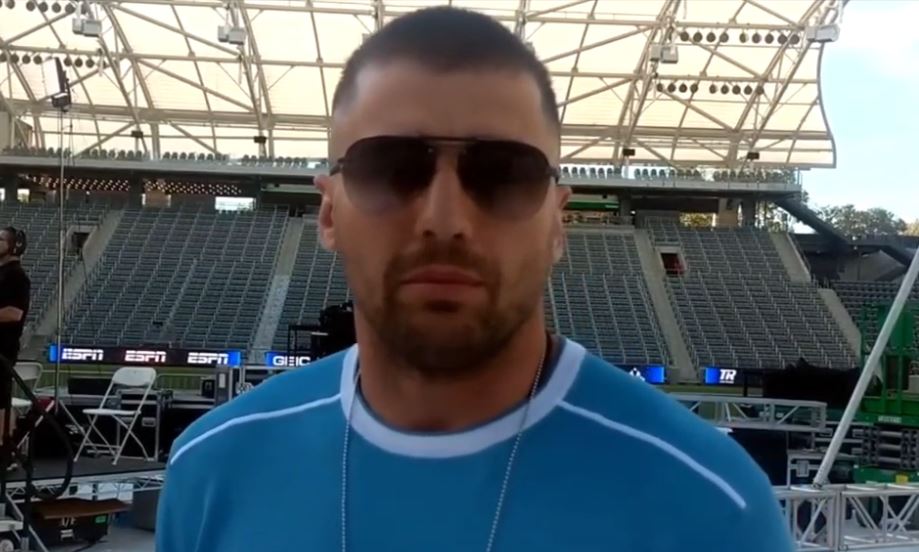 By S Saadeq Ahmed
Former WBC light heavyweight champion Oleksandr Gvozdyk (18-1, 14 KOs) is scheduled to take on Latvian Ricards Bolotniks (19-6-1, 8 KOs) on the undercard of Canelo-Ryder in Zapopan, Mexico. The bout, which will take place on May 6, marks his second fight of the year following a layoff that lasted just over three years. In an interview with ProBox TV, Gvozdyk explained that although he is still trained by Marcos Contreras, he is a part of Eddy Reynoso's team. It was Reynoso who helped him secure a place on the card. The fight should give fans a better idea of Gvozdyk's current capabilities. Some may wonder: Can he return to title contention?
Gvozdyk returned to boxing earlier this year in Pomona, California, where he won a unanimous decision against late replacement Josue Obando (now 20-35-2, 15 KOs). The six round bout was contested well above the light heavyweight limit as Gvozdyk came in at 184.75 lbs and Obando at 191.75 lb. Gvozdyk won by pressing the action and landing a variety of shots on Obando, who seemed content with having his back against the ropes. The win was Gvozdyk's first in nearly four years, a victory that came against Doudou Ngumbu in his only successful defence of the WBC title.
Although Bolotniks poses a much stiffer challenge than Obando, he will be coming off of a 13-month layoff. His last victory was against then unbeaten Hrvoje Sep, an eight rounder that took place in Barcelona, Spain. Bolotniks himself was inching towards title contention until getting knocked out by Joshua Buatsi. Both Gvozdyk and Bolotniks will look to secure victory against each other as a win for either will put them back on the path for a world title shot.
Assuming he gets past Bolotniks and secures a few more victories, Gvozdyk could see himself challenging for a world title before long. His status as a former world champion would be appealing to current contenders looking to get a signature win. If his claim that he is a free agent is true, arranging fights with Gvozdyk should not be a difficult task for promoters. Winning a world title, however, may prove difficult.
The current light heavyweight landscape has Artur Beterbiev as the IBF, WBC, and WBO champion and Dmitry Bivol as the WBA champion. Gvozdyk lost his WBC title to Beterbiev and if the two were to meet again, it is unlikely that he will be able to reclaim it. Bivol would also be a tough ask as he is an elusive fighter with excellent shot selection. Gvozdyk may come out victorious against Bolotniks and may be able to defeat some of today's light heavyweight contenders, but given who the reigning champions are, his chances of winning another title seem remote.