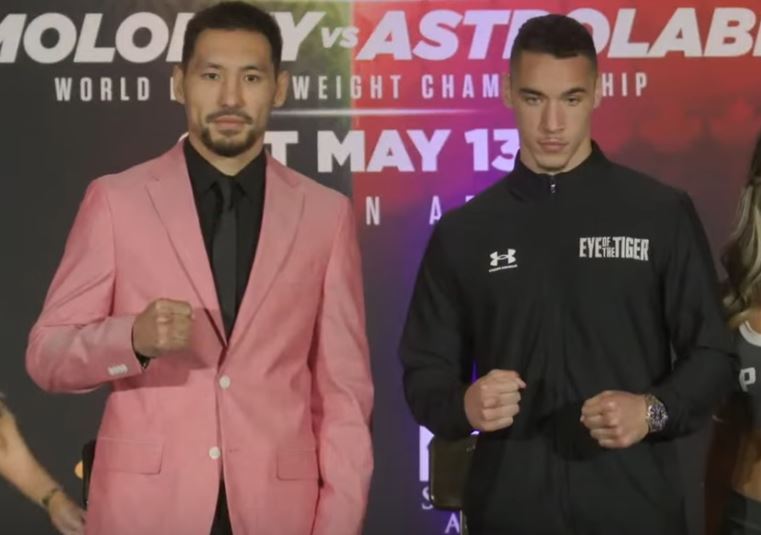 Top Rank Boxing on ESPN presented by AutoZone presents Janibek Alimkhanuly vs. Steven Butler and Jason Moloney vs. Vincent Astrolabio, a world championship doubleheader on Saturday night at the Stockton Arena in Stockton, CA.
The Top Rank Boxing event will be shown multiple platforms on ESPN, ESPN Deportes, and ESPN+ live streaming service online.
In the main event undefeated Kazak puncher Janibek "Qazaq Style" Alimkhanuly (13-0, 8 KOs) puts his WBO middleweight title on the line against Canadian contender Steven Butler (32-3-1, 26 KOs).
Janibek is one of Top Rank's most exciting fighters, he always brings the action and uses a highly offensive boxing style that keeps the fans entertained.
His main goal is to unify all the belts at 160 pounds but for now he has to get past a very tough challenger in Steven Butler.
Butler is ready to win championship gold and he has a tall task in front of him because if he doesn't have his defense in order he could get clipped and hit with multiple combos by Janibek.
This will be a good styles match up and Butler also believes in his power and aims to make the champion gain his respect early on.
In the co-main event for the vacant WBO bantamweight title is up for grabs, Australian challenger Jason "Mayhem" Moloney (25-2, 19 KOs) and the hard-hitting Filipino contender Vincent Astrolabio (18-3, 13 KOs) will fight for the chance to become first time champions.
Top Rank Fight Card
Middleweight Championship – Janibek Alimkhanuly (Champ) vs. Steven Butler (WBO Title)
Bantamweight Championship – Jason Moloney vs. Vincent Astrolabio (Vacant WBO Title)
Lightweight – Gabriel Flores Jr vs. Derrick Murray
Super Featherweight – Robson Conceicao vs. Nicolas Polanco
Middleweight – Javier Martinez vs. Joeshon James
Welterweight – Brian Norman Jr vs. Jesus Antonio Perez Campos
Super Featherweight – Haven Brady Jr vs. D'Angelo Fuentes
Featherweight – Amado Vargas vs. Bernardo Manzano
Featherweight – Ruben Villa vs. Maickol Lopez Villagrana
Janibek Alimkhanuly vs. Steven Butler, Jason Moloney vs. Vincent Astrolabio begins at 10:00 PM ET / 7:00 PM PT on Saturday, May 13, 2023 on ESPN, ESPN Deportes, and Live Stream on ESPN+.