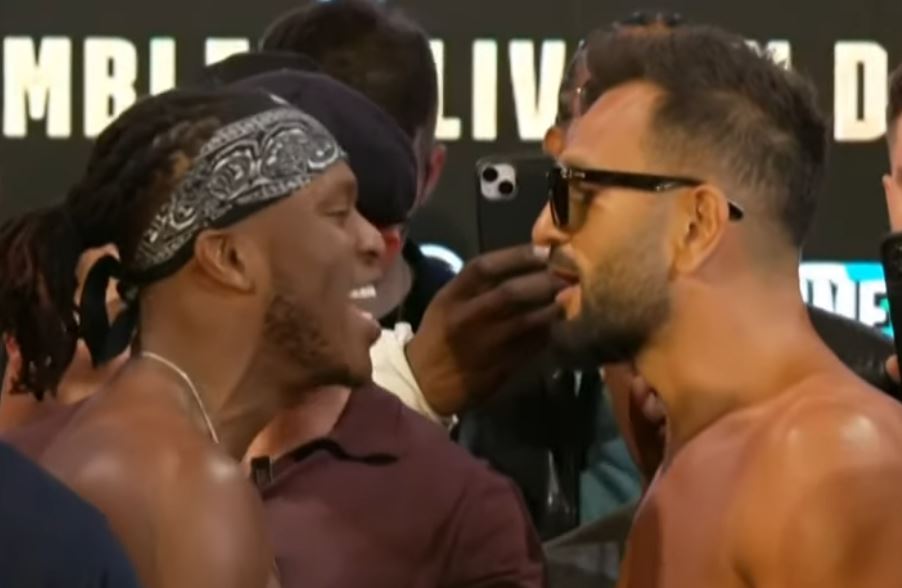 The OVO Arena in London, England will host the Misfits & DAZN X Series 007: KSI vs. Joe Fournier event and the place will be packed to the brim with fans ready to watch their favorite content creators mix it up in the ring.
The co-main event features Deji vs Swarmz, and the special attraction bout that could steal the show is Salt Papi vs. Anthony Taylor, the sexy ladies of the night Little Bellsy vs. Lil Kymchii will mix it up in a bad blood fight and other bouts will take place on Saturday.
YouTube star KSI is the founder of the Misfits Boxing on DAZN series, and he enjoys boxing so much that he can't just sit back and watch and promote he steps into the ring and fights on the shows too.
Tonight KSI will trade blows with Joe "The Billionaire" Fournier who challenged the YouTube star to a fight and got his wish.
Fournier has a pro record of 9 wins with no losses and all wins by KO, he believes he will knockout KSI and show the world how it is done.
KSI laughed at the suggestion and questioned the legitimacy of opponents Fournier faced and doesn't believe he fought anyone with his skill-set.
Perhaps the most intriguing fight of the night will be the Filipino sensation Salt Papi going up against Mixed Martial Arts veteran and social media boxing staple Anthony "Pretty Boy" Taylor.
Salt Papi has a bit of a cult following and many boxing observers actually believe he has the potential to become a pro boxer if he really takes it serious. Taylor who is flamboyant and somewhat of a court jester enjoys entertaining and taking on these social media stars for fun. He has made more money doing this than in his pro fight career and he wants to make a statement in his fight with Salt Papi.
Misfits & DAZN X Series 007 fight card
Cruiserweight – KSI vs. Joe Fournier
Light Heavyweight – Deji Olatunji vs. Swarmz
Cruiserweight – Salt Papi vs. Anthony Taylor
Cruiserweight – ViruZz vs. DK Money
Women's Super Bantamweight – Tennessee Thresh vs. Paigey Cakey
Women's Super Bantamweight – Little Bellsy vs. Lil Kymchii
Happy Punch Prelims Card
Heavyweight – WingsOfRedemption vs. Boogie2988
Super Lightweight – Corn vs. Unbaer
Heavyweight – Luis Nestor vs. Archie King
Light heavyweight – Zuckles vs. Mystery Opponent
Watch Misfits & DAZN X Series 007: KSI vs. Joe Fournier Live Stream on DAZN on Saturday, May 13, 2023 at 2:00 PM ET / 11:00 AM PT. For more information on tonight's event and upcoming boxing events visit: www.misfitsboxing.com