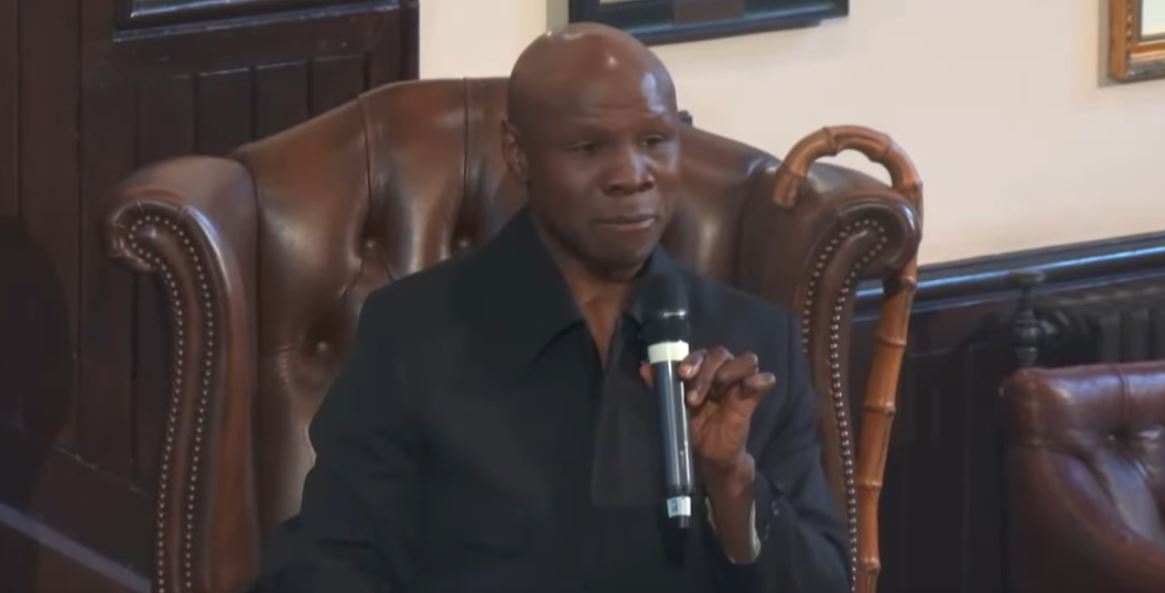 Chris Eubank Sr. was one of boxing's success stories of the 1990s. Dividing a nation (UK) as he was never far from controversy, but boy could he box (and fight ….and punch!).
The former WBO Champ answered a series of questions from Coventry, UK.
Are champions born or made?
Furnaces make steel and iron. You aren't born in a furnace.
20 years of hardship made sleeping on the concrete steps inside Gleasons Gym a thing I could just do – to evade paying travel fares or gym fees that I could not afford – to better myself as a fighter with the sparring that was available.
(All questions regarding son Chris Jr answered as a 'no comment'.)
How hard did Nigel Benn hit?
He caught me 8 times with head shots. 8! Nobody ever took 8 full punches from Nigel Benn who weighed within 5 pounds of him on the night. Nobody had ever took 4 at full force, clean, before or after.
But my chin was made from cast iron. Not even Carl 'The Cat' Thompson, a full heavyweight, could take me out when I couldn't even see the shots coming to brace myself at the last moment due to a grotesquely swollen left eye. Joe Calzaghe hit me fastest, in the first 15 seconds, and I didn't see that shot at all.
How great a victory do you believe this was?
The fact I excreted blood for three and a half weeks from the body shots, and had my tongue sown back together; tells you this was a spectacular and practically impossible victory.
Mentally Nigel Benn never wanted to win a fight more in his entire life.
But a greater win was the Watson 2 (rematch with Michael Watson), because Watson wanted to win over me that night even more than Benn did, and proceeded to completely dominate me in a superhuman display from out of nowhere. I needed to find something superhuman and out of nowhere to win.
Do you believe a great chin is necessary to get to and stay at the top in boxing like you did?
No, the the best chin is the one that doesn't get hit. Only in two or three of my first 49 pro fights was I hit clean. I had that uncanny knack of being able to move my head a fraction of an inch in the last moment to avoid, because I had no quarrels standing in the firing line in sparring; what the head guard and bigger gloves allowed was the shots brushing me to not brush me under the bright lights with even heightened awareness, if that makes sense.
Sparring is your friend. Reflexes aren't always born if you can befriend hard sparring, and without hardship it is hard to befriend sparring. Proper champions are made. Proper champions are calm in the ring, because the suffering has already been endured.
Why did you never face Roy Jones Jr?
A proper champion never eludes the mandatory challenge. If you chuck your belt in the bin, you've relinquished your championship duties.
Just like Gerald McClellan and Timothy Littles – whom I agreed to defend against and whom were equally as hot a prospects as Roy Jones in the early 90s – I wouldn't have eluded to face whoever else if they were mandated for my title like McClellan and the other gentleman.
So I would've taken the fight with Roy Jones in the early 90s and would've pulled out all the stops to win. Likewise in the late 90s when the shoe was on the other foot, I would've challenged Roy Jones and tried to win.
Who was your toughest title defence out of the 18 or 19 who challenged?
By far, Dan Schommer. He was a southpaw who I took lightly over in Sun City, and my advise to big Lennie Lewis was go over there and get acclimated to the altitude rather than make a movie with the beautiful Julie Roberts. He fought Hasim Rahman over there.
Schommer was flat-out robbed. I put bums in seats for Matchroom like no other and was putting Sky Sports on the map at the time, so they made sure they gifted me the decision to keep the train rolling. And that is why boxing is a mugs game.
Tyson Fury or Anthony Joshua?
You can't skip your education. I learned more in two or three months sparring Herol Graham and Errol Christie sandwiched either side of facing Randy Smith in front of 80 people than I ever could've winning in the first or second round and evading paparazzi.
More fighting in Splott leisure centre being spat on, called the 'n' and 'c' words and having coins and lighters thrown at me. Do you understand? More preparing to face an Argentinian with over 100 amateur fights, including the Olympics, for scheduled 12 rounds. …More sparring at a gym in America for five years where nobody knew me and paparazzi would be shot. You get me?
Fury wasn't fast-tracked. AJ was. Mick Hennessy did a wonderful job with Tyson Fury, and Carl Froch for that matter. He was Barry Hearn-like.