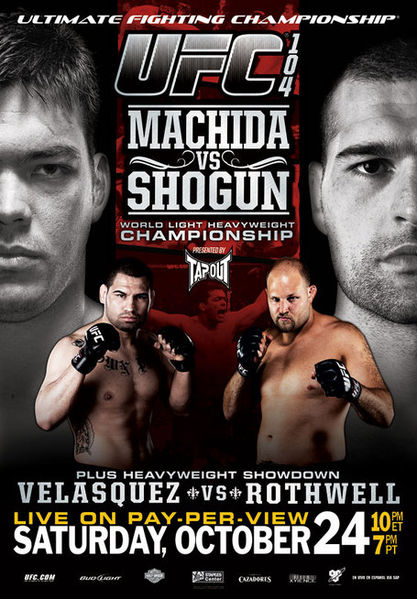 By Reynaldo G
With the upcoming UFC 104 taking place on Oct. 24 at the Staples Center (home of the Lakers) in Downtown Los Angeles,  Lyoto "Dragon"  Machida who holds the UFC light heavyweight belt (205 lb) will match up against the former PRIDE fighting sensation Mauricio "Shogun" Rua in what should be an exciting fight. Both guys come from Brazil and both guys have well rounded skills but prefer the stand up game.
A little bit about Lyoto Machida, he is nearly untouchable boasting a undefeated 15-0 record, he fights with an elusive Karate style, something different than the stereotypical windmill punches you see in most MMA fights.
I would liken him to a Floyd Mayweather Jr. a guy who has a science to his approach and a little bit of Juan Manuel Marquez since both Machida drink their own Urine.
Mauricio Rua is a Muay Thai fighter who is well versed in Brazilian Jiu Jitsu and coming off a big knockout win over Chuck Liddell.  Shogun Rua is known for his aggression which was a trademark of the Chute Boxe camp where he used to train out of.
I know many boxing fans complain about the fights in UFC being sluggish and sloppy, but this fight should be more attractive for those who like technical match ups. I know I am  looking forward to this bout.
Sidenote: Don't forget to catch the premiere of HBO 24/7 Pacquiao/Cotto which also airs the same day as UFC 104, Oct. 24. It should air before the main event, but you can also DVR it or catch the replays of 24/7 Pacquiao/Cotto.
Talk about it in the Now Boxing Forum membership is FREE