By Charlie Knoxville
Got an Opinion? Boxing Fans Submit Your Article to Nowboxing.com
Reading some of the messages left by disgruntled fans on different sports websites about boycotting Manny Pacquiao's pay per view fights and not watching him again because he didn't want to give into Floyd Mayweather Jr. and Golden Boy Promotions demands of taking several randomized blood tests leading up to the fight…makes me ask, are you guys crazy?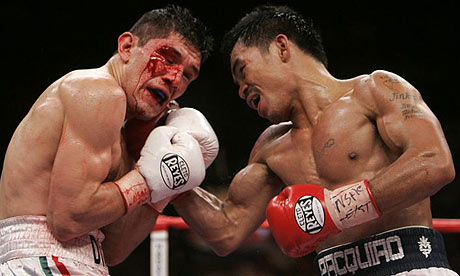 Why would you boycott the most exciting and entertaining fighter on the face of this planet because he was being bullied and subjected to a drug testing protocol by the opposing camp with no evidence or proof that Pacquiao is taking steroids other then his dominating performances.
Some guy said "Pacquiao taking Miguel Cottos best punches clean on the chin shows he was on steroids", well that is the stupidest crap I ever heard, steroids don't make your chin stronger look at Fernando Vargas he was on steroids and got knocked out and dropped by Oscar De La hoya when they fought. 
If the NSAC or the state athletic commission required that Manny Pacquiao take the blood tests I bet you he would have no problem with taking them. Pacquiao took a blood test before against Erik Morales and he didn't feel 100 percent in that fight, so he has every right to avoid something that he believes will make him have a disadvantage in the fight.
For any of you guys out there who talk crap about Pacquiao and say his excuse is crap, who are you to say it's crap when you have no idea what this man feels inside, every fighter has their own pre-fight routine and know their bodies more than some angry boxing fan who never stepped into a ring in their life.
People ask "how he can turn down $50 million dollars'?, well maybe because money isn't everything to Manny Pacquiao.  It sickens me to see how everyone has cast a stone against this man because of accusations started by a bitter Floyd Mayweather Sr. a convicted drug dealer.
I don't care what anyone else says I will pay for Manny Pacquiao vs. Joshua Clottey.  Joshua Clottey a big legit welterweight and has been avoided by some of the top guys in the division. Clottey is tough and durable a guy who never runs in the ring but always moves forward and brings a lot of action, this fight will be an explosive one.
Manny Pacquiao is worth every penny of the pay per view price tag fans spend to watch him fight.
Floyd Mayweather Jr. on the other hand is not worth a dime of my money, the only reason I and many other boxing fans have paid for his fights is to see him lose or someone to pull the shocking upset over this arrogant welterweight who fights blow up feather and lightweights.
If the Mayweather vs. Pacquiao fight did happen it would've probably been very boring and Mayweather would pot shot and push Manny off  and run after he hits him like he usually does, or Mayweather would tie up with Manny and use his elbows like he did with Ricky Hatton.
I know plenty of people who have watched a Mayweather Jr. pay per view and after the fight demanded a refund, I can't say the same for Pacquiao fights.
While Manny Pacquiao is taking on a legit welterweights in Miguel Cotto and Joshua Clottey, Floyd Mayweather Jr. is rumored to be facing Nate Campbell a former lightweight champion who is nearing 40 years old.
Don't get me wrong Nate Campbell is a hell of a fighter, but he is way undersized and old in the tooth for Mayweather Jr. to have any sort of challenge.
Floyd Mayweather Jr. has yet to fight a legit top welterweight or someone who has a chance of beating him, he avoided Antonio Margarito, Sugar Shane Mosley, Miguel Cotto and now Manny Pacquiao.
He never wanted to fight Pacquiao in his prime, what Mayweather Jr. is doing is hoping that Joshua Clottey either beats up Pacquiao badly so he can say see Pacquiao was overrated or wait for Manny Pacquiao to show some signs of deterioration and slowing down before he faces the man.
When people say let's boycott a Manny Pacquiao fight, those people probably never even paid for his pay per views anyway!
I hope Manny Pacquiao does well, people shouldn't attack him and accuse him of steroid use and all this other bull crap because the man has given the boxing fans great, exciting fights on a consistent basis.
Floyd Mayweather Jr. will never fight Manny Pacquiao as long as he is beating Manny Pacquiao in pay per view buys, that is all Mayweather has to offer in negotiations that he has more pay per view buys than Manny Pacquiao.  If Mayweather happens to get poor numbers his value in negotiations will drop.
If Mayweather decides to go head to head with Manny Pacquiao on March, 13, 2010, I know which fight I'll be watching.
Discuss this and other boxing news in the Now Boxing Forum (membership is FREE)

I am an avid fan of boxing and video games. My first fight of memory was watching Prince Naseem Hamed destroy Kevin Kelly. I enjoy all aspects of the sport. My favorite current boxer is Manny "Pacman" Pacquiao. My favorite boxing match is Diego Corrales vs. Jose Luis Castillo 1. I love watching boxing on Pay-Per-View more than being there live because you can really enjoy and watch the action from the best view.