By Che Negron
Got an Opinion? Boxing Fans Submit Your Article to Nowboxing.com
Upon hearing the news that British boxer Ricky Hatton is deciding to comeback to the ring one more time against a top level fighter… I had to shake my head in disagreement.
Ricky Hatton, I am sorry to say this but it is time to just hang them up or face a C class fighter and go out on top.
Hatton, even though he is ranked the number two light welterweight in the world he cannot compete at the championship level anymore against the deeply talented, 140 pound, light welterweight division.
The light welterweight limit is one of the deepest divisions in all of boxing right now. You have guys like Timothy Bradley, Kendall Holt, Juan Manuel Marquez, Nate Campbell, Amir Khan, Victor Ortiz, Marcos Maidana, Devon Alexander, Paulie Malignaggi, Juan Urango all these guys would beat Hatton right now.
The only way Hatton would beat this crop of light welter's is in a food eating contest or beer drinking pub game.
Let's face the facts, Hatton hasn't been much of a technical boxer or healthy living practitioner his entire career.  The man is known as Ricky Fatton and he cherishes that moniker, he has already had a health scare over his unhealthy lifestyle and continues to balloon up in weight.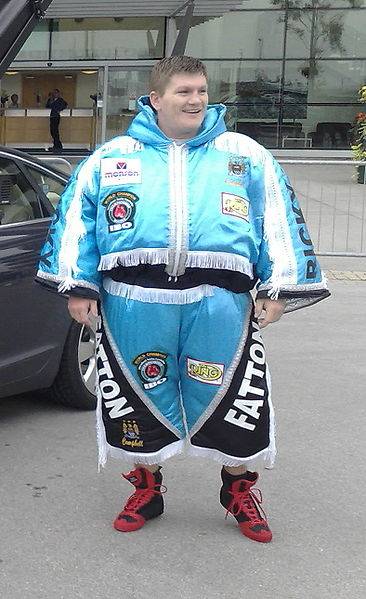 Hatton shows how unprofessional he is when it comes to taking care of himself at the championship level by crash dieting to shed off over 40 pounds in a short few weeks and after the fight putting all that weight back on with beer and fatty foods. This is not healthy and very damaging to ones body and long term health.
Ricky Hatton should fight someone he could match up well with, maybe he should fight Junior Witter and shut his mouth.
Junior Witter vs. Ricky Hatton would be a huge fight in England because of the bad blood and history between both fighters.
Plus Witter is already faded and no longer what he used to be, Hatton would have a great shot at going out on a win and shutting his rivals mouth to top it off.
But if Ricky Hatton is serious about wanting to face a top level guy in his last fight he will be making another huge mistake once again.
Ricky Hatton has never lacked confidence.  His confidence and balls out weigh his skill level.
You can't change an old dog like Hatton, even Paulie Malignaggi in a rematch would box circles around the Manchester City fan.
Hatton truly does have strong self belief, so strong that he actually believed with his limited skills and lack of defense that he could defeat Floyd Mayweather Jr. and Manny Pacquiao and he paid the price dearly for those beliefs when they both knocked him out.
Ricky Hatton's biggest wins were against two legendary fighters, Kostya Tszyu and Jose Luis Castillo who were way past their primes and worn like an old pear of gym sneakers, both of these boxers were clearly shot and picked at the right time.
Ricky Hatton's last fight with a fearsome Filipino named the "Pacman" Manny Pacquiao shown us how flawed he really is.
Hatton couldn't grapple or hold the Filipino boxer and kept getting tagged with punches from all different angles until he finally got put to sleep in the 2nd round with one of the most deadly looking one punch knockouts in big fight history.
After Pacquiao landed that  left hand right on his chin, Hatton was practically out cold and swallowing his own tongue.
Even during HBO 24/7 Hatton was acting extremely cocky he actually called Manny Pacquiao one dimensional (laughs), he said Pacquiao was predictable and had the same move every time, I couldn't stop laughing at him when he said that, Ricky Hatton calling another fighter predictable? (Laughs)
Watch Hatton and Mayweather Sr. saying Say Move Everytime before Pacquiao knocks him out

The same move the right hook and roll under that Hatton and his trainer Floyd Mayweather Sr. laughed at was the same punch that Manny Pacquiao dropped him with in the first round.
If that was the only move in the book that Pacquiao had and Hatton knew that move was coming weeks in advance, how come he couldn't avoid that punch and roll move if Pacquiao was so easy to predict?
Maybe because he doesn't have much of a ring intelligence.  He is what he is a strong brawler with more heart, balls and confidence than skill.
Discuss this and other boxing events in the Now Boxing Forum (membership is FREE)