BROOKLYN (Jan. 20, 2010) – Born with boxing flowing through his veins, 14-year-old prodigy Sherif "Sugar Boy" Younan, Jr. could turnout to be the struggling sports savior in a few more years, based on his increased dominance in the amateurs, where he has captured too many championship belts (15), trophies (15) and medals (30) to fit into one room.
Younan recently captured top honors in the 165-pound division of the Northeast Regional Silver Gloves Tournament, qualifying for his fourth straight trip to The Nationals (Feb. 3-6 in Independence, Missouri), where he's been a 3-time winner in three different weight classes. It's been difficult enough keeping track of how many national and regional tournaments he's won as a junior boxer.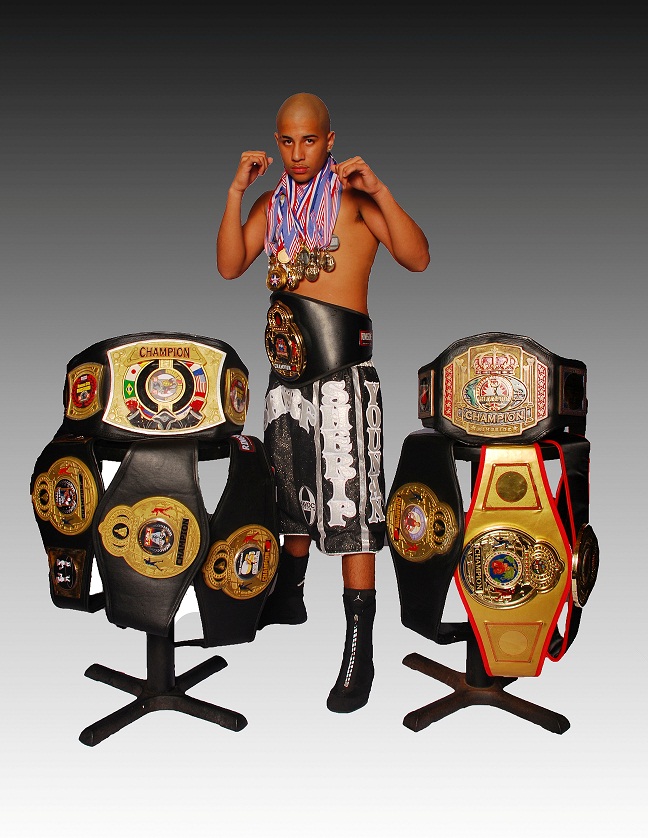 (Photo of Sherif Younan Jr. by Robert Allen)
His father, Sherif, has been his coach since The Phenom first entered a gym to celebrate his second birthday. His cake was in the shape
of boxing gloves and another New York City trainer, Colin Morgan, gave the youngster a baby heavy bag as a gift.
Despite his youth, the Utrechet High freshman (in Brooklyn) is far from a boy among men at the Coney Island Gym, where he regularly trains and often spars with established professionals such as former IBF light welterweight champion Paulie Malignaggi,
who Sherif's father now serves as head trainer, Danny Jacobs, Jr., Curtis Stevens, Joe Greene, 2008 U.S. Olympian Sadam Ali, and Gary Starks, Jr., among the more notables.
"My son has been blessed by God," the elder Sherif attributed his son's skills. "We saw it, star quality as a boxer, when he was just a baby. He loved boxing from the first day in the gym. He started boxing competitively when he was only 8 years old in the 80-85 pound class. Last year, he fought at 139 pounds in The Nationals and now he's at 165. He keeps winning as he grows. Someday, I think he'll be a champion light heavyweight, if not a heavyweight.
"I think Sherif is like a young Roy Jones, Jr. – quick hands, great footwork and more power as he ages. He's kind of a cross between a young Roy and Floyd Mayweather, Jr. His defense is real good and he throws a lot of punches. We have a great team and one guy who has really helped is Mario Boxing 360), a good friend and advisor who has shown a lot of support and love for my son. We don't know exactly where we're going, yet, but Mario will be one of the key guys guiding my son's career. He's going all of the way with us and we want to thank him for being in our corner."
Sherif, unfortunately, falls one month shy of being old enough to qualify for the 2012 U.S. Olympic Boxing Team, which leaves Team Younan with what can only be described as a great problem – wait for the 2016 Olympics or turn pro at 17.
"I love boxing," the man-child remarked between training sessions. "I've learned so much being around pros in the gym — Paulie everyday, Curtis a lot, and Sadam is like my big brother. I never get tired of winning and I'm always in a rush to get my next belt. An Olympic gold medal has always been my dream, but I'll leave that (waiting for 2016 or turning pro) to my father and Mario (Boxing 360).
"Being trained by my father has been great. Mario (Boxing 360) is family; I gave him my winning medal from last year's National PAL Tournament in appreciation for what he's done for me.
"You know, if I were fighting myself, I'd run. My best punch is a left hook to the body; nobody can take it. I do throw a lot of punches, all precision punches – I hit 'em right and don't waste any."
Sherif's father/coach isn't concerned with the decision he and his team will have to eventually make in a couple of years, regarding the Olympics or turning pro. No real concern right now because they have another tournament to dominate later this month at the 2010 National Silver Gloves.
"I just know that my son is going to be a real star in boxing," the Egyptian native concluded. "He'll only be 19 for the 2016 Olympics, but, then again, a lot of the Cuban and Russian (amateur) fighters are in their thirties. A lot of top pros didn't box in the Olympics – Mike Tyson, Zab Judah and others. Winning an Olympic gold medal has always been my son's dream, but turning pro at 17 instead of waiting
around for 2016 is going to be tempting. It is what it is. We'll see."
Discuss this and other boxing news in the Now Boxing Forum (membership is FREE)