BROOKLYN (Jan. 27, 2010) – The road to boxing stardom for 21-year-old Sadam "World Kid" Ali, a 2008 U.S. Olympian, is being patiently paved and continues February 6 in Newark, New Jersey.
"I'm a promotional free agent taking fights one by one," Ali explained the route he's taking. "We're doing it this way to show people I'm a boxer worth investing money in. I'll probably have a lot of fights before I sign with a promoter. I'm only 21 and in no rush."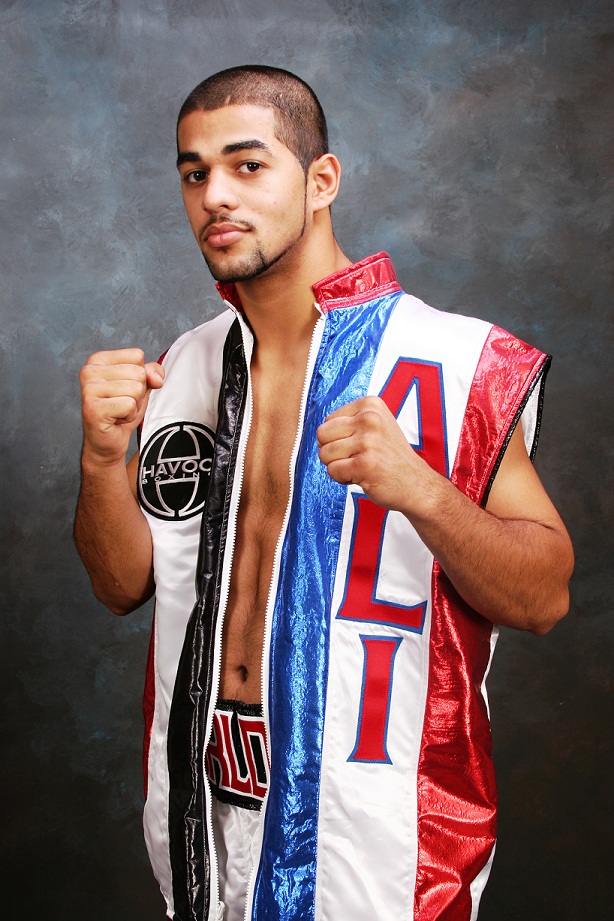 Ali (4-0, 2 KOs), fighting out of Brooklyn, was a celebrated U.S. amateur boxer, starting when he was only nine, who became the first Arab-American member of the U.S. Olympic Team, as well as the first New York City based member of the U.S. Olympic Boxing Team in 20 years. He also was a 3-time PAL National and 2-time National Golden Gloves champion.
Last year, Sadam turned pro January 18, stopping Ricky Thompson in the opening round. He went on to win all four 2009 fights, the last coming Oct. 31 at Mohegan Sun, which ended in a 4-round decision versus Osvaldo Rivera.
Ali is matched against fellow Brooklyn welterweight Jason Thompson (4-0, 2 KOs) in a 4-round bout on the Feb. 6 "Heavy Artillery" card, headlined by Tomasz Adamek and Jason Estrada, at the Prudential Center in Newark.
"I know Jason Thompson and I'll be ready for whatever he brings," Ali said. "He has experience from the amateurs, fighting top guys like Danny Jacobs and Joe Greene. A lot of people will be at this fight, especially Polish fans there for Adamek, but a lot
of my fans will be there, too. I have to shine; I know it's going to be crazy. It's just the beginning for me.
"It's cool fighting on the same show with guys I know like (Jason) Estrada and 'Kid Chocolate' (Peter Quillin). I feel more comfortable than if I were fighting where I didn't know anybody, but it's just going to be me and Jason Thompson in the ring.
Nobody's going to help us and I just have to stay focused. I'm hard to figure out in the ring because I don't fight one way. How I fight depends on my opponent and I figure out my best opportunity to win in the first 30 seconds. I can stand and punch, or move around and bust-up my opponent. I do it all! The key to my success is making good adjustments during the fight. "
Ali's head trainer, Andre Rozier, added, "Thompson is a durable opponent. Sadam hasn't had any walk-in-the-park fights since he turned pro and Jason's a tough nugget. We know that because he used to train in our gym. He's a real competitor who will bring intensity into the ring like he always does. Sadam has worked hard for this fight and I expect him to excel and shine. Whether he wins by knockout or decision, he will put on a fantastic performance."
Ali's Olympian experience jump-started his pro career, which is still in its infancy, yet, he's already showcased his tremendous potential. "Being an Olympian – the first New Yorker since 1988 on the U.S. Olympic Boxing Team and first Arab-American ever on the U.S. Olympic Team – has been a big boost," Sadam concluded. "I gained valuable experience fighting all over the world against all types of
guys."
"Sadam has very fast hands and nimble footwork," Rozier broke-down his fighter. "He is a real character – he can be standing in front of you and then he's behind you. Sadam is his own entity, not like any other fighter. He does it his way – box on his toes, or tighten-up his defense and slug. He's still a baby but he will be world champion, I'm sure of that. He has the ability to be great but that will all be up to him."
The long journey has just begun for "World Kid," unbeaten prospect Sadam Ali, a name to remember for the future.
Discuss this and other boxing news in the Now Boxing Forum (membership is FREE)