Floyd Mayweather Jr. took some time out of training for his upcoming fight with Sugar Shane Mosley to show off the new Reebok Zigs. These shoes are some of the best new shoes on the market, promoting energy return in the shoe and allowing wearers to go longer, harder, and faster in their training. In fact, these shoes are not only being used by Floyd Mayweather but also Chuck Liddell and Amir Khan as they train for their fights.
"We're thrilled Floyd is training for his upcoming fight in the new Reebok ZigTech shoes.  We have literally hundreds of athletes that are doing the same thing, and to have one of the best pound-for-pound fighters using these shoes to train for one of the biggest fights of the year really shows the attributes of the shoes.  Floyd's preparation has been incredible and these shoes are helping him train longer, harder, and faster to be in the best shape he can be in for this fight." said Chris Froio, Head of Global Marketing, Mens Sport.
Floyd Mayweather takes a break from training to show off his Reebok ZigTechs. He has been training in his Reebok ZigTechs for his upcoming fight against Shane Mosley.(Photos below of Floyd in the ring with his ZigTechs) Click images to enlarge.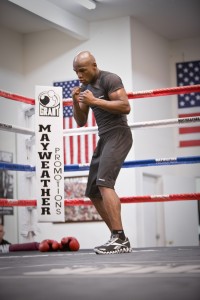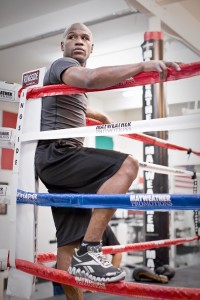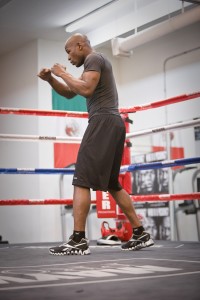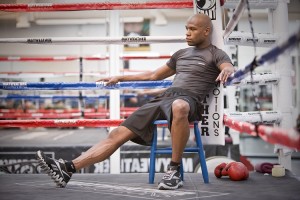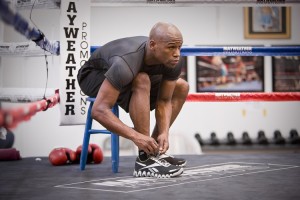 On Saturday, May 1, 2010, Floyd Mayweather Jr. will face his long time rival Sugar Shane Mosley in Las Vegas, Nevada and got into peak condition with the help of  his Zigtechs.
More info on the New Reebok Zigtech shoes:
MSRP: $100
Retailers: Dicks Sporting Goods, Foot Locker, Finish Line and Reebok.com
– Reebok ZigTech is the ultimate conditioning shoe for endurance sports like running and agility sports like training.
– The first thing you see when you look at the shoe is the unique geometry – the zigzag shape. There is a functional purpose to why it looks like this.
-Reebok's zigzag shaped technology works like a slinky. Just as a slinky returns energy through itself to propel it forward, Zig works the same way.
– By wearing Reebok ZigTech, you can go longer because the shoe causes less wear and tear on the muscles (up to 21% less muscle activity) meaning less wear and tear on your body.
–  Normal energy return is just up and down but ZigTech transfers energy horizontally along the "zigs" so you get it back in forefoot.
– Reebok ZigTech is lightweight, flexible and fuses energy return with the ultimate in cushioning.
– When you run and train in Reebok ZigTech, you work your shin, and hamstring muscles less. Less muscle activation when running and training allow you to train longer and harder without the wear and tear.
– By running and training in Reebok ZigTech, you can go longer, go faster, recover quicker and train healthier.
-When you run or train in Reebok ZigTech your shin muscles receive 21 percent less wear and tear. Shin splints are a very common injury in running and training. In addition, Reebok Zig allows hamstring muscles to work 6 percent less.
-Athletes including Floyd Mayweather Jr., Tiki Barber, Peyton and Eli Manning, Chad Ocho Cinco, David Ortiz, Tim Lincecum, Carolina Kluft, trainers nationwide such as Sara Haley, and more are all huge fans of
Reebok ZigTech.
Got an Opinion? Submit Your Article to be posted on Nowboxing.com
JOIN the NOW BOXING FORUM to discuss this and other boxing news topics (membership is FREE)