By Phil Kane
Long Island's popular light heavyweight Joe "The Irish Bomber" Smith Jr. a 2008 New York Gold Gloves Champion will be taking a big step up on the undercard of Jimmy Burchfield's CES Promotions "Pride & Power," Tony Grano / Nicolai Firtha main event June 26th at the Mohegun Sun Casino and Resort in Uncasville, Connecticut.
Smith, 4-0, 4Ko's is a heavy handed boxer / puncher taking a big step up squaring off with Mazur Ali who until now has battled as a cruiserweight and fought four of his last five bouts at heavyweight.
Ali, 6-6, 3Ko's has fought as heavy as 212lbs and has battled the likes of Tor Hamer, Kasim Howard and Sinan Samil Sam will be looking to be the spoiler as Smith looks to remain perfect going for stoppages in five fights.
The Grano / Firtha co-feature matches Mike "Machine Gun" Oliver, 23-2, 8Ko's facing off with Miami, Florida's Mauricio "Indio Boy" Pastrana, 35-13-2, 23Ko's over eight.
Along with the Smith / Ali bout Philadelphia welterweight Frankie Trader, 6-0, 2Ko's meets Springfield's, Mass. Noel Garcia, 2-3-1, 1Ko; New Haven middleweight Rick Dawson, 1-0, 1Ko, brother of light heavyweight champion "Bad" Chad Dawson takes on an opponent yet to be named as Bridgeport, Connecticut's super lightweight Carlos Hernandez looks to get on the winning track against Fall River, Massachusetts Jonathan Vasquez making his pro debut.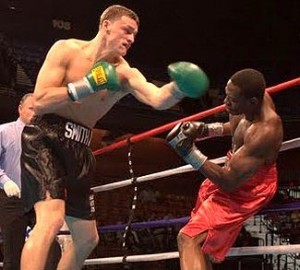 Springfield's light heavyweight Jose Torres makes his pro debut against Stamford's Ahmad Mickens; New Haven Jr. undefeated welterweight Edwin Soto battles Bryan Abraham and New Haven highly touted prospect Luis Rosa squares with Puerto Rican super bantamweight Jose Del Valle.
Tickets for "Pride & Power," are priced at $40.00, $65.00 and $105.00, are available by calling CES, 401.724.2253 or by going online at www.cesboxing.com, the Mohegan Sun Box Office at www.mohegansun.com or at Ticketmaster www.ticketmaster.com.