By Lou  Block
We've seen this before with boxing promoter, Bob Arum, the one who talks first to the media is usually the one who doesn't want the fight made.
Bob Arum said the contract details have all been ironed out and he is giving Floyd Mayweather Jr. until the middle of July to sign the contract for the fight because they need to start promoting the fight ASAP. It looks to me that Arum is giving an ultimatum in hopes that Mayweather Jr. becomes difficult and doesn't accept the fight.
Bob Arum would naturally want Manny Pacquiao to fight inhouse fighters like Antonio Margarito and Miguel Cotto because either way Arum gets more money for himself, if he pits Pacquiao against Floyd Mayweather, then,  Arum doesn't get as much money since Mayweather is not his fighter [anymore], and if Manny Pacquiao loses it's another blow to Arum's ego because his cash cow just got destroyed by the man he dislikes.
Last time the negotiations for the Floyd Mayweather Jr. vs  Manny Pacquiao fight was a circus. Bob Arum was becoming over-dramatic over the littlest requests from Floyd Mayweather's side. Although Mayweather agreed to every single term that Manny Pacquiao asked of him, Floyd Mayweather's one simple request was for both fighters to undergo Olympic style drug testing to fight on a fair and even playing field, then, Bob Arum threw a fit and went into panic mode telling every media outlet that would interview him that Manny Pacquiao is scared of needles [yet has several tattoos], is superstitious,  and accused the Mayweather camp of harassing his fighter and bullying him into taking the blood tests. Talk about making a big deal over nothing.
I read an interview recently from the Toronto Star where Freddie Roach said  he wanted Manny Pacquiao to call Mayweathers bluff, well, I hope Floyd Mayweather Jr. calls Bob Arum's bluff and signs the contract with quickness, imagine the look of panic on Bob Arum's face when he finds out Floyd signs the contract and called his bluff?  Now, imagine the look on his face after Floyd Mayweather Jr. whoops Manny Pacquiao's butt? PRICELESS!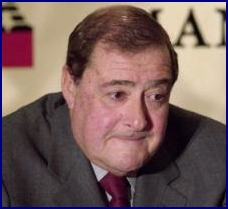 Photo of Bob Arum
*Please refrain from leaving any Racial, Profane or Derogatory comments*
Got an Opinion? Submit Your Articles and Press Releases to be posted on Nowboxing.com
JOIN the NOW BOXING FORUM to discuss this and other boxing news topics (membership is FREE)