London –  Monday 11th October 2010
4th December 2010 Is "Judgement Day" For El Maachi, Barrett And Marston
Yassine El Maachi is set to defend his International Masters Light Middleweight title, against the seriously tough France based Haitian Jimmy Colas at the Steve Goodwin promoted "JUDGEMENT DAY" double title event at York Hall, Bethnal Green, London on Saturday the 4th December 2010.
El Maachi, who won the vacant title back in April following a scintillating battle with France's Bertrand Aloa, will have his work cut out as Colas has an impressive championship record that includes his being the French Light Middleweight Champion, which he defended twice, a two time EBU Light Middleweight Champion and he is the current WBC Latino Light Middleweight Champion.
Co-headlining  "Judgement Day" will be Ryan 'Mr Attitude' Barrett who will be defending his newly won International Masters Lightweight title, against a yet to be named opponent.
Barrett will be looking to retain the form that see him utterly destroy, the normally classy, Mark 'The Flash' Alexander in less than 90 seconds to lift the belt on September 11th. On the night Barrett plain out boxing the hapless Alexander, who was sent to the canvas no less than three times, before the referee called a halt to proceedings.
There are no less than twelve top class support fights including the highly anticipated all girl Featherweight clash, rescheduled from September 11th, between Ultrachem TKO Boxing Gym's Marianne 'Golden Girl' Marston, and the highly experienced Welsh battler Lana Cooper. Fireworks are expected as both have similar come forward style and neither like to concede ground. Sounds like a good old toe-to-toe war is on the cards.
Another of Johnny Eames' rising stars on the show is the ever stylish crowd pleasing Featherweight  'Saint' George Jupp, against a yet to be named opponent.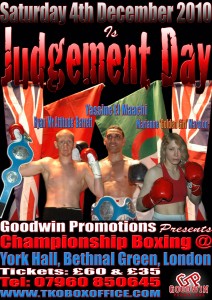 PHOTO CREDIT– Gianluca (Rio) Di Caro
Back in September, at the 'It's Personal event',  'St George' put on one of the best boxing displays of the season so far, when he plain outclassed the experienced Pavels Senkovs with his slick long jab and fast hands. When Senkovs tried to bully his way back into the fight Jupp showed that, even though he is a truly skilled boxer, he was quite happy to stand centre ring and slug it out when needed.
Fresh from his superb victory, over veteran Hastings Rasani, the highly popular Essex Cruiserweight Tony 'The Conqueror' Conquest will again be in action and looking to extend his unbeaten record against a yet to be named opponent.
Conquest's gym mate, the highly entertaining Welterweight John Wayne Hibbert, will be making his welcome return to the York Hall. The Stetson wearing Hibbert is an all action fighter with a knockout reputation – four stoppage finishes in his six outings to date.
Explosive all action fighters seem to be the standard at Steve Goodwin promoted shows, and Waltham Abbey's Phil Gill, AKA 'The Experience', exemplified this back in September when he slugged it out with Damien Turner for four action drama packed rounds to increase his unbeaten record to six.
In the very same vein unbeaten Light Middleweight War Lord Michael 'The Zambezi Hitman' Norgrove will be back  in action, against a yet to be named opponent, and looking to take his unbeaten record to four.
Bethnal Green's own Jamie Arlain gets his second outing. Big things are expected of the local young Light Welterweight. Back in September Arlain impressed on his pro debut out pointing the highly experienced tough guy Danny Dontchev.
Islington's John ' The Gorilla' Ryder will surely be looking to emulate his stunning debut victory. So far Ryder has had just 90 seconds of ring action. That's right it took him just half a round to beat the hapless Ben Deghani into submission. Deghani is no sapp either, back in  June, at the King's Hall Belfast, he broke the jaw of rising star Kris Carslaw during their clear  'Fight of the Night' encounter.
Another  single fight veteran with an early knockout record is Ely, Cambs Light Welterweight Tyler Goodjohn. His first victim, Dale Hutchinson, staying the course 264 seconds longer than Denghani did with Ryder.
Rounding out the show are three debutants. Super Featherweight Richard Hines, Light Welterweight Charlie Kelly and from the Ultrachem TKO Gym stable Super Middleweight Brett O'Callaghan.
Tickets for Judgement Day at the York Hall, Bethnal Green, London on Saturday  4th December 2010 are on sale now – priced ú35 (Unreserved) or ú60 (Ringside).
For tickets call: 07960 850645, book on-line at www.tkoboxoffice.com or in person at The Ultrachem TKO Gym, Gillian House, Stephenson Street, Canning Town, London E16 4SA.
Press release by Gianluca (Rio) Di Caro
www.justlisten2this.com
*Please refrain from leaving any Racial, Profane or Derogatory comments*
Got an Opinion? Submit Your Articles and Press Releases to be posted on NowBoxing.com
JOIN the NOW BOXING FORUM to discuss this and other boxing news topics (membership is FREE)