Boxer/Congressman Manny "The Pacman" Pacquiao arrived in Los Angeles from the Philippines on Saturday night October 23 at around 8:00 p.m. PT shortly after the debut of HBO 24/7 Pacquiao/Margarito.
Freddie Roach and the rest of Team Pacquiao were also there. Roach said Pacquiao is ready and weighs only 146 pounds so he will have the speed advantage against Antonio Margarito on November 13. Roach also confidently predicted the fight would not go past 8 rounds and Pacquiao would knock Margarito out clean.
Pacquiao will resume his training at the Wild Card boxing club in Hollywood on Monday. Pacquiao vs. Margarito will take place at the Dallas Cowboys stadium in Texas on November 13, 2010 on HBO Pay-per-view, tickets for the fight are still available through ticketmaster or in person at the Cowboys box office.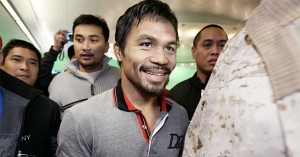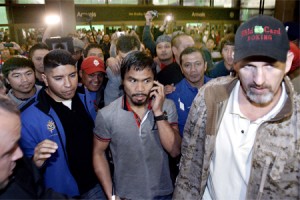 Photos Credit: Chris Farina/Top Rank
*Please refrain from leaving any Racial, Profane or Derogatory comments*
Got an Opinion? Submit Your Articles and Press Releases to be posted on NowBoxing.com
JOIN the NOW BOXING FORUM to discuss this and other boxing news topics (membership is FREE)