Hollywood came to London earlier today. OK, not quite Hollywood but the film crew shooting the worldwide Christmas 2010 Promo for The Body Shop were in town, at the Ultrachem TKO Gym, to film Great Britain's best known female boxers Marianne 'Golden Girl' Marston and Angel 'The Artist' McKenzie in action.
Joining the film crew were WinkBall.com citizen reporters Tara Manandhar and Ralph Miller, who in addition to capturing the whole shoot on video, as part of the WinkBall.com campaign to highlight Women's Boxing, undertook interviews with Ultrachem TKO Gym regulars such as former Olympian Billy Joe Saunders, Dutch Cruiserweight Mitchell Balker and Light Middleweight prospect Pat McAleese as well as top British boxing coaches Johnny Eames and Derek Grainger amongst others.
The promo, directed by Duncan Wilson, is set to the background of the Christmas carol 'Joy to the World' and celebrates all things distinctly London. Iconic backdrops featuring an eclectic mix of quintessentially English characters from Beef Eaters outside the Tower of London, to an Opera Singer standing on London Bridge during rush hour… crazy punks in Camden, graffiti artist, breakdancers, club scenes in East London … and many others. Each character contributes a line or two of the verse delivering a fantastic fun and festive message from London and Londoners to the rest of the world.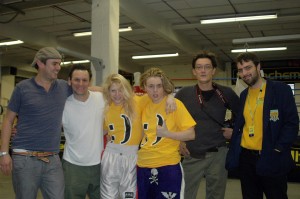 Marianne and Angel's contribution consisted of them in a full blown sparring session followed by sparring and corner scene cuts with them singing their lines from 'Joy to the World'.
Following the shoot Marianne, who previously was the lead singer of rock band 'Random Acts of Violence', said, "That was a lot of fun, I can't wait to see the finished advert.
It was an interesting experience, I'm used to moving around and singing but boxing and singing is another thing altogether.
It could have got messy, but Angel and I are sparring each other a lot at the moment, as we have fights coming up, so know each other really well."
'We're professionals" said the quirky former Big Brother star Angel McKenzie, who is also a singer and artist, "We could box each other anywhere, anytime and it wouldn't be messy. It would be exciting.
Boxing is an art, I think our boxing will be the star of the Body Shop Christmas film because we are exciting all action boxers" before smiling broadly and adding cheekily, "and everybody loves to watch girls fight, yes?"
The Body Shop Christmas Promotion, featuring Marianne 'Golden Girl' Marston and Angel 'The Artist' McKenzie, will be released globally on Tuesday 7th December 2010.
For behind the scene action from The Body Shop Christmas promo shoot and to watch the video interviews of Marianne, Angel and some of the boxers and coaches from the Ultrachem TKO Gym in Canning Town, London, go to www.winkball.com
*Please refrain from leaving any Racial, Profane or Derogatory comments*
Got an Opinion? Submit Your Articles and Press Releases to be posted on NowBoxing.com
JOIN the NOW BOXING FORUM to discuss this and other boxing news topics (membership is FREE)