Portsmouth Light Heavyweight Joel 'El Toro' McIntyre, the protégé of Former WBU Champion Tony 'Oakey Kokey' Oakey, is set to debut against Elvis Dube at the Mickey Helliet promoted 'Oceana's Eleven' event at the Oceana Nightclub in Southampton on Sunday 21st November 2010.
McIntyre, who is co-trained by Johnny Eames and Derek Grainger at the Ultrachem TKO Boxing Gym in Canning Town, London, is clearly pleased that his maiden outing has been switched to a venue closer to his home fans as he recently said,"I was disappointed when the fight (at the York Hall in London) was called off as I was really ready. Now I look at it as just one of those things. I think it's great that I'm now debuting closer to home, there will be far more of my supporters that can get here than would have to York Hall.
Training has been going really well and I've been getting plenty of really good sparring here with Ali (Heavyweight Ali Adams), Mitchell (Cruiserweight Mitchell Balker) and Kyran (Light Middleweight Kyran Singh) and I'm ready for the 21st."
In addition to Joel 'El Toro' McIntyre versus Elvis Dube 'Oceana's Eleven'  there are at least seven further bouts featuring local fighters, including Worthing's sensational Lightweight prospect Alex Dilmaghani, Portsmouth Light Middleweight Mark Coombes, Basingstoke Welterweight Darryl Still, Chichester Super Bantamweight Jonathan Fry, Mudeford, Dorset Light Welterweight Shane Watson and Southampton duo Featherweight Jon Fernandes and Light Heavyweight Mark Atkins.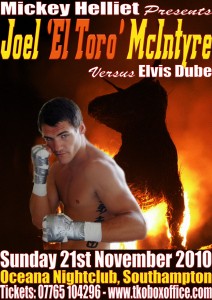 Tickets for the Mickey Helliet promoted 'Oceana's Eleven' event at the Oceana Nightclub, Southampton, Hampshire on Sunday the 21st November 2010 are priced £30 (Unreserved) or £60 (Ringside).
For tickets call: 07960 850645, book on-line at www.tkoboxoffice.com or in person at The Ultrachem TKO Gym, Gillian House, Stephenson Street, Canning Town, London E16 4SA or direct from Joel call 07765 104296
*Please refrain from leaving any Racial, Profane or Derogatory comments*
Got an Opinion? Submit Your Articles and Press Releases to be posted on NowBoxing.com
JOIN the NOW BOXING FORUM to discuss this and other boxing news topics (membership is FREE)