The highly anticipated Cruiserweight clash between Toks Owoh and JJ Ojuederie, at the Steve Goodwin promoted 'Unleash The Fury' super show at London's York Hall on Saturday 5th March 2011, is off following Ojuederie pulling out, due to an injury sustained in training.
Stepping up to the plate, to replace the injured Ojuederie, is # 13 ranked Billy 'The People's Poet' Boyle from Sheffield.
Former Paratrooper Boyle, who in 2009 unsuccessfully challenged Light Heavyweight supremo Nathan Cleverly for his Commonwealth crown, is likely to prove an even sterner test for the returning former World # 3 ranked and IBF Super Middleweight Inter-Continental title challenger from Chalk Farm.
On receiving the news that his replacement opponent for the 5th March is Billy Boyle a Toks said, "I don't really know too much about Billy Boyle. I can say I have been around way before this guy.
I see his tape, I see the way he box and I'm just going to go in there and do what I know best, that's boxing.
If it happens I take him out, I take him out, but the only thing I know to do best is to box. I've been doing that for twenty years now.
It's gonna be a good fight."
Toks Owoh versus Billy Boyle headlines the Steve Goodwin promoted 'Unleash The Fury' event at York Hall, Bethnal Green, London on Saturday 5th March 2011.
Main support for the Owoh-Boyle headliner features Ultrachem TKO Boxing Gym's sensational London based Dutch Cruiserweight prospect Mitchell Balker in his third UK fight against Doncaster hard man John Anthony.
Co-main support sees Tottenham's former championship challenger Michael Grant make his welcome return to the ring, after a year long sabbatical, in a six round Lightweight contest against a yet to be named opponent.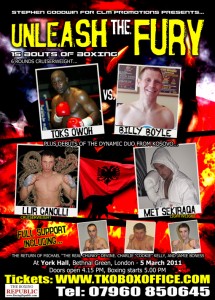 The Unleash The Fury undercard features some of London's best upcoming talents and includes yet another Ultrachem TKO Gym fighter 'Dynamo' Daryl Setterfield against Birmingham's Andrew 'Paddy' Patterson.
Minster. Kent Light Heavyweight Dan 'Woody' Woodgate gets his third outing against Retford's Lee Nicholson and Waltham Abbey Light Welterweight Phil Gill looks to take his unbeaten run to ten against Aysham's Scott Moises.
Luton Lightweight Michael 'Chunky' Devine makes his welcome return to the ring, following his coveted '0' to Mark 'The Flash' Alexander last year, and will be looking to get back to winning ways against the highly experienced Daniel Thorpe.
Biggleswade Light Middleweight Jamie Boness will be looking to extend his unbeaten record against Guildford's Louis Byrne and Woolwich Super Middleweight Eder Kurti faces Welsh banger Jamie Ambler.
Unbeaten, in twelve, Hackney Middleweight Wayne Alwan-Arab is set to face Tooting based Bulgarian Danny Dontchev.
Yet another of Johnny Eames' Ultrachem TKO gym fighters, Caine Brodie, also features on the card against a yet to be named opponent.
Making their pro debuts at 'Unleash The Fury' are Harlesden Lightweight Met Sekiraqa, against Robin Deakin and former World Kick Boxing Champion, Llir Canolli, from Cosavo, against a yet to be named opponent.
Tickets for Unleash The Fury at the York Hall, Bethnal Green, London on Saturday 5th March 2011 are on sale now – priced £35 (Unreserved) or £60 (Ringside).
For tickets call: 07960 850645, book on-line at www.tkoboxoffice.com or in person at The Ultrachem TKO Gym, Gillian House, Stephenson Street, Canning Town, London E16 4SA.
Got an Opinion? Submit Your Articles and Press Releases to be posted on NowBoxing.com
*Please refrain from leaving any Racist, Profane or Derogatory comments*