Following the recent announcement that Willie Limond is to headline his upcoming 'Fists of Fury' event, at King's Hall in Belfast on Saturday 2nd April 2011, former WBU Lightweight World Champion, turned promoter, Graham Earl today took the time to give a rundown on the fighters and fights that will be showcased at his Irish debut event.
"I've got Mark Morris, he's a lightweight that'll be making his debut. Big things planned for him. You can see he's a bit of a heavy hitter and I'm sure he'll make the change from the amateurs to the pros easily. He's already shown progress already, I'm happy with what I've seen and look forward to an explosive fight, maybe an early night.
Next up we've got Mark Ginley, again a Lightweight making his debut on April 2nd. He and Mark Morris both trained together as amateurs at the same club. Mark Ginley's a nice little mover, nice little boxer, again a good talent, all these guys have a lot of talent. Me going over there and making it happen for them is good for them.
Usually the talent over there will just be left and then they go in to work, drinking I suppose, and this way they can showcase their talent and especially on the big scene. You know King's Hall is like our York Hall here, so they'll get to fight in front of a big crowd there. It'll be good to see young Mark get his first win in the paid ranks.
We're bringing Terry Holmes with us, as people see at York Hall in January Terry's explosive, he's exciting. Everyone gets their moneys worth watching Terry box.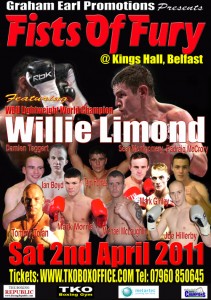 We're working on him to improve him as a fighter. Hopefully on April 2nd we'll see an improvement. Me and Terry work closely together and I've seen some changes and I'm expecting some different things from Terry on the night. He'll be an even more explosive fighter.
We've got our Middleweight Joe Hillerby. Joe's had two fights over here already, two wins. Last time was against Ryan Clark. Everyone knows who Ryan Clark is, he's a dangerous opponent. For Joe to beat him on only his second fight says a lot. He did a very good job with him and I was very pleased with it so I'm putting Joe on this one and start building him for the future. Each fight he has we see an improvement and it's just a matter of time before we'll have him fighting for titles.
Next we've got Padraig McCrory, Padraig is making his debut, he's a Light Middle. He's a hard worker, he trains hard, he listens, takes on board well and all these lads train together, bar Joe, so all these lads are in the same gym together and there's a good buzz and they bring each other on. I'm looking forward to seeing Padraig make a good transition to the paid ranks, get a good win and improve fight by fight. I've seen him sparring and what I've seen in sparring I think he's a classy kid so really looking forward to his first fight.
We've got Ian Boyd, he's from the same gym as Joe, Ian Boyd last time out, he come over here to fight. He actually lost it, I actually feel he nicked it but he needed some work so he's been working on that and you can see the improvement. I'm looking forward to him getting back out and turning things around and getting his first win. It'll be good to see Ian Boyd turn it round, I think he's got a good future.
next one we've got Sean Montgomery, he's going to be doing Light Welterweight. Again when I first saw Sean I felt he was quite limited, past him a few tips and next time I went back and see him he must have taken onboard and I see a big improvement. He's now a good attacking fighter, constant pressure. again a good work horse so I'm really looking forward to seeing him go out there showcasing his skills and building for the future.
Also on the bill is Tommy Tolan against Phil Townley. These two are local lads, I wouldn't say so much as local rivalry but a fight's been building between them two for quite a while, so it's going to be an explosive fight. They're both pushing their tickets and both need support as I think they are out there to prove themselves and show the people who's the best fighter at that weight division locally. It'll be a cracking fight and I'm really looking forward to that one.
Next we've got Michael McLaughlin, he had his first pro fight against a Bulgarian and it ended up a draw. But as we know when you get fighters from abroad quite often they've had a lot of experience. I think Michael did very well to get a draw that night, he may have possibly got a win. I'm looking forward to watching Michael as he's improved a lot and will be going all out for his first win for sure.
Damian Taggert will be against Paddy McGarrity, another local lad, again this fight this fight has been building for a bit and is looking to be an explosive fight and I'm really looking forward to that.
For the final we've got Willie Limond, I'm not sure who he'll be fighting just yet. Having Willie topping the bill in Belfast is something else. Wilie can top the bill anywhere, he's got great support. He's a good technical fighter. He's coming of a loss to Eric Morales. They were fighting at seven and half thousand feet so I think he had that against him. Up until then he was doing really well. He must have been doing good as he's back in Mexico sparring Morales for two weeks.
I'm really looking forward to Willie being on the show. It's going to be an entertaining night and everyone's going to get value for their money."
Tickets for the Graham Earl Promoted 'FISTS OF FURY' event at the Nugent Hall, King's Hall, Belfast on Saturday 2nd April 2011 are now on sale and priced £35 (Unreserved), £40 (Outer Ringside) or £50 (Ringside).
For tickets book on-line at www.tkoboxoffice.com or contact local fighters. For further information call TKO Box Office on 07960 850645