Earlier this year former World Champ, turned promoter, Graham Earl returned to his old stomping ground, York Hall in Bethnal Green, for his inaugural London show.  On the 7th May Graham again returns to York Hall with his double title headlined 'Redemption Day' event.
Speaking earlier today Graham said, "It's going to be a cracking fight, a cracking show. We've got two Southern Area title fights on it.
We've got Leon Williams on it defending his Southern Area title against Danny Couzens and we also have Paul Morby in a rematch against Daniel Cadman, the last one ended in a draw.
We've also got on the undercard Terry Holmes, having his third professional fight.
TKO Boxing Gym's Sam Standing and our new Belfast based signing Mark Ginley will be having their pro-debuts.
Another of our new signings, Michael Grant, will be having his first fight under the Graham Earl promotions banner.
The Belfast Banger, Joe Hillerby , will also be on the show as well as our Emmanuel 'Manny' Oshunrinde.
I'm also hoping to be debuting a new heavyweight on the show, should know for sure in a day or so.
It's looking to be a great show with two cracking title fights and a brilliant undercard, so anyone looking to get tickets should go to the TKO Box Office."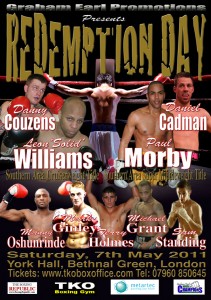 Tickets for the Graham Earl Promoted 'Redemption Day' event at the York Hall, Bethnal Green, London on Saturday  7th May 2011 are now on sale and priced £35 (Unreserved) or £50 (Ringside).
For tickets call: 07960 850645, book on-line at www.tkoboxoffice.com or call in person at The TKO Boxing Gym, Gillian House, Stephenson Street, Canning Town, London E16 4SA.