By Gianluca (Rio) Di Caro
On Tuesday 7th June the season finale of the highly successful Matchroom Sports promoted Prizefighter series takes place at York Hall in Bethnal Green.
Matchroom Sports have really pulled all the stops out for the season finale with Prizefighter – Welterweight II. The lineup features no less than two former World Champions, Junior Witter and Colin Lynes, a former British Champion, Kevin McIntyre, the current International Masters Champion Yassine El Maachi, a former International and European title challenger, Peter McDonagh, an International Masters challenger, Nathan Graham and two undefeated young prospects, Bobby Gladman and John Wayne Hibbert.
Over the past week or so I have been fortunate to have interviewed Colin Lynes, John Wayne Hibbert and Bobby Gladman, as well as the legendary coach Jimmy Tibbs, who trains Colin Lynes.
Today I managed to catch up with one of the most exciting young fighters taking part in Prizefighter – Welterweights II, Yassine El Maachi.
I've seen Yassine fight twice now, and have to admit to being a huge fan. He's highly entertaining switch hitter that oozes supreme style and panache.
I honestly believe that the TV exposure from Prizefighter could sky rocket Yassine's career. He's someone that will excite the fans, in the same way as Prince Naseem did at the turn of the new millennium.
OK, enough of my hyping Yassine, he really doesn't need me for that, he is more than capable of doing that himself. So without further ado here is a little Q&A with Yassine El Maachi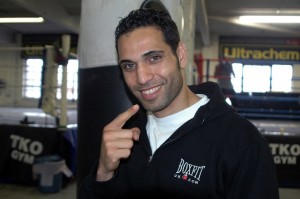 Rio – You've often stated that you have wanted to take part in Prizefighter – Why have you tried so hard to take part in the series?
Yassine – I was waiting to get into Prizefighter for a couple of years now and now they have given me the chance to be in Prizefighter Welter.
I want to be on it to show the people I can do and to prove myself to see how capable to go against the big names taking part.
Rio – What do you think of the Prizefighter series?
Yassine – It has the best fighters in the country, being in there is great. It's full of former champions. To fight them for thirty two thousand pounds.
For me Prizefighter is geared for people to see eight fighters fight on one night. The winner has to fight three fights, that's the best thing for me.
A title shot, that's what I want to be honest with you. That's what I'm doing it for, I'm in it just for that, to see if I can get a title after that. To beat these guys in Prizefighter is what I want.
For me to just beat these guys to get to a title I'd fight them all at the same time, I would fight seven fighters in one go, I don't want to fight three of them I want to fight them all in one go.
Rio – OK, interesting idea. Now onto the fighters you may face on the night – give me your thoughts on Junior Witter.
Yassine – Junior is a lovely guy, he can box, he can move. He's one of the great boxers in the World. He used to be a former WBC, I think, or WBA (ed. WBC) Champion of the World. In 2008 or 2009 he lost it and he want to get it back.
I feel really sorry for him if him and me are going to fight together. I will feel really sorry for him if we meet in the final because he's only going to make a little bit of money, £16,000, because he's going to lose to me, because I'm too good.
Rio – If you don't get Junior you could meet another former World Champion, Colin Lynes, what's your thoughts on him?
Yassine – Colin Lynes, he got beaten up by Junior Witter. Simple as that, no more to say.
Rio – Next up is British Champ Kevin McIntyre, give us your thoughts on Kevin.
Yassine – To be honest I don't know who is Kevin McIntyre, but probably he's going to be the same as other boxers, hands up and comes and box. I love to fight people like that.
Rio – OK, the former WBF Intercontinental and European title challenger Peter McDonagh's next, what's your thoughts on him?
Yassine – I don't know him as well, but he will be the same to be honest with you. Hands up, come forward. I'll pick him off with punches and tell him goodbye.
Rio – Bobby Gladman's next on my list. What do you know of Bobby?
Yassine – Bobby Gladman is undefeated, he's got one draw. He's a good prospect coming up. It's too early for him to be in Prizefighter.
Rio – I'm sure you know John Wayne Hibbert as you've fought on the same show before, so what's your thoughts on him?
Yassine – John Wayne Hibbert is a nice guy, he's undefeated but he's not going to win if he comes up against me.
Rio – Finally an old gym mate of yours is next – Nathan Graham, give me your thoughts on him?
Yassine – Nathan Graham he's a nice, good fella. We used to train at the same gym. I wish not to get a draw with him in the first fight, or in the second. If it going to go then go in the final. But if he does I can't do much I'll just have to beat him.
Rio – Thank you for taking the time to talk with me, finally is there any thing else you would like to say?
Yassine – It's going to be hard for any of the fighters, I feel sorry for the undefeated fighters especially. I wish them all luck but if they fight me they will lose.
I mean the fight with Jimmy Colas, number four in Europe, he was looking to fight against Ryan Rhodes. He was going to fight against the best, he's former WBC or WBO champion, European Champion. He's the guy that had twenty eight wins and only three or four losses, and I beat him so easily.
I was picking him off so easy. He was coming to fight. That's why I say to you I'm a fighter, I'm a boxer. If they don't want to come and fight I'll box them, that's me.
That's what happened with Jimmy Colas, he came to fight but he found a different type of boxer. I was just playing with him. Everyone see what I did to him in the eight, nine and ten round, I was just playing with him.
I was so much winning the fight, winning the first round to the six round and he just start running away. In the round eight , nine and ten I thought I could easily knock him out, I tried but couldn't because he was tough, he was strong, but I beat him up badly.
That's what I will do at Prizefighter, but three times. I'll beat three fighters.
I wish every fighter good luck, but I will win the Prizefighter.
Prizefighter – Welterweights II, featuring Yassine El Maachi, Colin Lynes, Junior Witter, Kevin McIntyre, John Wayne Hibbert, Bobby Gladman, Nathan Graham and Peter McDonagh, takes place at York Hall, Bethnal Green in London on Tuesday 7th June 2011.
Tickets, priced £35 (Unreserved), SOLD OUT (Ringside), and SOLD OUT (VIP) are available now at www.tkoboxoffice.com or in person at the TKO Boxing Gym, Gillian House, Stephenson Street, Canning Town, London E16 4SA or call 07960 850645