Ringside Coverage by Gary Purfield
Joey Eye Promotions and David Feldman hosted their third card at Harrah's Casino in Chester PA outside of Philadelphia Friday night. They put on an action packed card with seven fights for the eight hundred boxing fans in attendance. Featuring five four round fights followed by two six round headlining bouts it was a night of crowd pleasing fun. With no Blue Horizon the Chester cards can hopefully fill the void as best as can be and continue the great tradition of Philly Boxing.
Promoters billed the main event between lightweights Victor Vasquez and Gustavo Dailey as a can't miss action fight due to both fighters reputations for being crowd pleasing warriors. The promoters here got it right as these two delivered on the promises. After going to war for four rounds of a scheduled six Vasquez stopped Dailey in the fourth round. The fight was a rematch between the two Philly fighters where Vasquez scored a fifth round knockout in the first bout.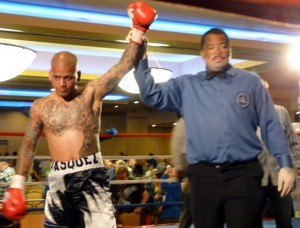 After a feeling out opening round Vasquez went to work in round two. He stepped on the gas pedal with a two fisted berserker style attack and never let up until he had stopped his opponent. Vasquez was stalking Dailey with fast and furious fighting through rounds two and three. He was clearly up three rounds to none entering the fourth round by being busy with non-stop punching. The assault was largely to Gustavo's body that hurt and slowed the challenger looking to avenge his KO loss in the first fight. Dailey looked for openings but could find no way to stop Vasquez's unrelenting aggression. In round four Dailey started well leading with his straight left from the southpaw stance. He was connecting to Vasquez's head and while he was not slowing Victor's forward charge he was showing signs of life.
Then late in the round Vasquez put a stop to any hope Dailey had and ended the night. While Vasquez had worked the body in the first three rounds he went head hunting and found his mark with a right hand that landed flush. Dailey had a delayed reaction and some knee shaking before crumbling to the canvas. He managed to rise and make the effort to continue but it was not in the cards for Gustavo tonight. He was clearly punch drunk as he wandered and stumbled around the ring. Wisely the referee stopped the fight instead of allowing Dailey to continue giving Vasquez the TKO win at 2:02 of the fourth round.
Victor Vasquez 13-5-1 (7 KO) lived up to his billing of not being able to be in a bad fight and then some. He entertained the crowd with his forward charging style often backing his opponent into the ropes where he pounded away with both hands drawing rowdy cheers from the boxing faithful in attendance. It was a well-earned KO victory and Vasquez certainly earns future headlining honors on similar cards. Gustavo Dailey 4-12 (1 KO) takes the loss and while his record does not impress he deserves no criticism after a hard fought effort.
Undercard Report
In the co-main event Tony Ferrante bounced back from a loss with a fourth round TKO win over Joe Park. Ferrante dominated what was an often grinding affair at times and exciting at others. Ferrante did his part to make it a fight but Park was often content to grab and hold.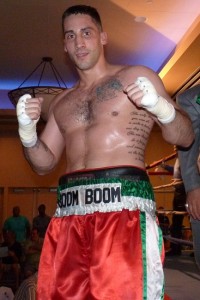 A slow first round ended with Ferrante landing a right hand that sent Park staggering to the corner. In round two Ferrante landed several well time straight rights and right uppercuts. Ferrante had his man hurt in the corner until Park decided to pull the odd moment of the night. Clearly just trying to survive Park grabbed Ferrante around the waist then began driving him like a tackling pad across the entire ring eventually shoving Tony into the ropes and nearly sending him out of the ring. This would cost Park a point but he survived the round.
In round three Ferrante landed at will with everything and scored a knockdown on a straight right to the side of the head. Later in the round he a landed right hook smack flush across chin. By this point Park was barely throwing at all and holding on to survive every time they got close.
Round four was more of the same punctuated by a straight right from Ferrante that staggered his opponent. With Ferrante bombing away and landing in the corner the bout was stopped at 2:46 of round four. Ferrante 10-2 (4 KO) gets back in the win column and Park drops to 8-6 (6 KO)
Undefeated Angel Ocasio5-0 (1 KO) kept his perfect record intact in a four round lightweight bout defeating Randolph Scott who was unable to get his first win and falls to 0-4. In the first round Scott gave the impression the upset and win was a possibility by controlling the action and Ocasio looked off only able to land one solid punch at the end of the round. Scott even was showboating at points in round one circling the arm before punches.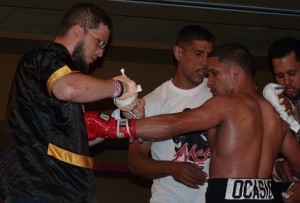 Ocasio then began finding his timing in round two and slowly took control of the fight. Ocasio landed the cleaner harder punches backing up his opponent in the final three rounds. Ocasio was awarded a knockdown in round three when Scott's knee touched the canvas but it appeared to be a slip. Ocasio walks away with the unanimous decision win by scores of 40-36, 39-36, and 39-36.
Rashad Brown blew away Philip Burnette in the first round of middleweight action. Brown dominated the action dropping his opponent three times when the referee stopped the fight after the final knockdown. Brown 4-0 (1 KO) stays unbeaten and gets the stoppage at 2:59 of round one. Burnette falls to 2-3 (1 KO)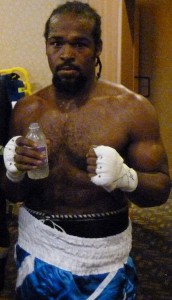 Todd Erikkson gave young Fred Jenkins Jenkins Jr. a battle in a close four rounder in the Super Middleweight Division. Jenkins is the son of Philly trainer Fred Jenkins and Erikkson was a late replacement added yesterday. In a tactical fight Erikkson was much busier but Jenkins landed the cleaner blows. Jenkins 2-0 (1 KO) was awarded the unanimous decision all three scores of 39-37. Erikkson falls to 3-6-2 (1 KO).
Afterwards I spoke with Jenkins who commented on his opponent's toughness stating he hit him with everything and he kept coming. Jenkins was all smiles knowing he had earned a hard fought victory and valuable learning experience.
In an action packed close brawl "Jolting" Joey Tiberi took a decision win over Jonathan Ocassio. Tiberi came out in round one throwing homerun shots intended to do serious damage. Tiberi continued his assault in round two but seemed to tire halfway through the round allowing Ocassio 0-8 into the fight. Rounds three and four were back and forth with entertaining action. The crowd support was heavy for Tiberi as they chanted Joey, Joey and erupted every time he landed a hard shot. At the end of the four round Lightweight bout Tiberi 4-1 (3 KO) was awarded the unanimous decision by scores of 40-36 and two cards 39-37.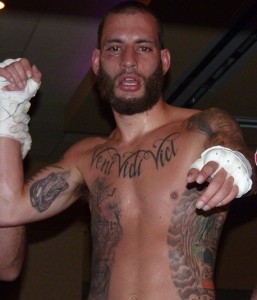 In the opening bout Naim Nelson won his pro-debut by shutout unanimous decision with sores of 40-36 on all three cards. Nelson controlled his opponent Kywame Hill in the welterweight bout in all four rounds to take the convincing win. Nelson 1-0 was able to land his jab and left hook to the body while pushing Hill 1-8 (1 KO) back into the ropes for most of the fight.
Questions, comments, agree, disagree, or anything all send it to gboxing3@gmail.com
Got an Opinion? Submit Your Articles and Press Releases to be posted on NowBoxing.com
*Please refrain from leaving any Racist, Profane or Derogatory comments*