By Sir Shondre
As easily as we tend to ponder that which should be and that which shouldn't, time after time we have forcibly digested, forced fed so called same camp "EXTRAVAGANZAS". Only to indulge in a small taste of that which we so crave; a TANTALIZING boxing gourmet served with all the trimmings of a five star meal. Just in case an outsider wished to participate in a pugilistic confrontation with a resident, MANDATORY relocation was first and foremost with starvation being the noncompliance consequence. Enter the two nomads: Mr. Most Hated, Mr. I Don't want to come in out of the rain if I have to live by your rules, Mr. Dance under water and not get wet….PRETTY BOY FLOYD "MONEY" MAYWEATHER JR. and Mr. "VICIOUS" VICTOR ORTIZ.
With a deep breath we can now breathe a sigh of relief and finally see a young upcoming fighter get a chance at greatness without having to fall victim to the risk versus reward syndrome that has plagued boxing for the last 3 decades. So called Sheltered by the words, Picking and choosing; Boxing is a business; ducking and dodging etc. What has become of rankings which stood for so much in the past…now rankings are chosen by emotional editors who edit ranking lists in regards to whom they emotionally connect with. The movement up of an individual based solely off of past accomplishments and his name, to boost Pay-per-view sales and at the same time depriving us (Boxing's Paying Public) of fights which should materialize. Many will say VICTOR ORTIZ deserves not the chance to fight FLOYD MAYWEATHER, just as many said Floyd didn't deserve a fight with the late great Genaro Hernandez. If not given a chance by Genaro Hernandez it would have either taken more years or never came to past that Floyd captured a title which caused top boxers to have to take the gamble and step in the ring with him. Ortiz has the chance to do that which 41 other opponents could not and that's STOP and/or DEFEAT Floyd Jr. Easily we all know Floyd could have chosen anyone and they would have all agreed to any terms strictly to say they fought Floyd and for the payday. But instead of choosing a house hold name strictly for PPV sales, he chose a fighter that other fighters tried to stay away from and that's a young, hungry, powerful Aztec descendent. MANNY "PACMAN" PACQUIAO could have chosen this fighter or several others a long time ago yet he opted for whom BOB ARUM said was the better choice.  Winning the hearts of many followers due to humbleness and a brawler style but losing a fan base that adores boxing as a whole. Those of us wanting to see others have a chance to dethrone those considered top prize fighters.
Many already push this welcomed fight from the table saying, "Why did he not fight SERGIO MARTINEZ?"…well that's easily answered with why didn't Manny Pacquiao? Add BERTO, ORTIZ, BRADLEY, KHAN, JUDAH etc. to the list of he was active and why not. For those that don't understand, a Judge would have looked at it as being disrespectful to the courts had FLOYD been in the tabloids talking about fights and planning something and would have gotten handed a guilty verdict prior to him even coming to court. Now that he has gotten a heads-up on his court case now he can step in… without that looming over his head. KEY to an ORTIZ victory is not to use reckless aggression but effective aggression, Floyd eats fighters alive that come forward simply swinging for the fences and forgetting that they are being hit as well as missing a high percentage of their punches thrown. Compubox cares not of a fighters name merely on percentages and that is the key to FLOYD'S victories…. his mastery of that which compubox scores, which in turn sways judges. Check the percentage landed against punches thrown and punches landed against the output of the same individual and believe it or not Floyd stands Atop the list. Floyd's key to winning stands in his usual, hit and don't get hit style. Which will lead him to what should be a talked about victory over a young up and coming hungry fighter whom other top fighters avoided due to the risk vs.  reward factor. Given that Even if losing the first 2 rounds Pretty Boy Floyd is known for having figured out his opponent by that time and winning every round there after and the fact that Juan Manuel Marquez will probably have weight and age issues…there is a strong possibility that we will see PRETTY BOY FLOYD MAYWEATHER vs. MANNY "PACMAN' PACQUIAO in early 2012, unless by some divine intervention Pacquiao chooses to stand inside and trade as opposed to box outside while darting in and out….and Mayweather chooses to not use defense and speed and opts for the crowd friendly phone booth toe to toe, punch for punch tactic the casual boxing fan wishes for….then gather your hopes once again for negotiations to began again for the fight of fights. OHhhhhhh provided Pacquiao does that which Shane Mosley and Victor Ortiz did…and that's agree to an up to the fight random blood and urine tests. Because as Floyd Mayweather stated to Mr. Larry Merchant after he slaughtered Mosley in regards to the possible Pacquiao showdown, "If he (Manny Pacquiao) takes the test, we have a fight and if he doesn't take the test, we have no Fight".
" Today is what it is….only because Yesterday was what it was !!! "
( SIR_SHONDRE')
Got an Opinion? Submit Your Articles and Press Releases to be posted on NowBoxing.com
*Please refrain from leaving any Racist, Profane or Derogatory comments*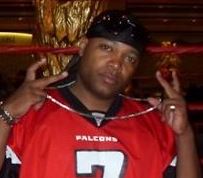 Marcus Jenkins known to the boxing public as Sir Shondre' was born Oct of 73 In Natchez, Mississippi to parents Mary and Earl Johnson. I relocated to Dallas, Texas and attended Devry Institute Of Technology majoring in Computer Programming and Electrical Engineering. A father of one angelic princess Jada Honeia' Green, whom is also a fan of the art form. During College I also trained in the art of KENPO under Master Tim Bullot whom is also a Dallas police officer. I'm the youngest male of the family but feel wise and well seasoned in life's choices. Boxing has been in my blood since as long as I can remember.