By Gary Purfield
This Saturday at the Arena in South Philadelphia rising welterweight contender Mike Jones will be having a homecoming when he fights Raul Munoz to stay busy in between bigger HBO fights. Part one covered Jones past and present including wins over Jesus Soto-Karass on the big stage, his up and coming days in Philly, and where he heads next to possible world title challenges in the next year. Part two focuses more on the workout itself including style points, adjustments Jones has made, and what he will look to improve going forward.
Jones 24-0 (18 KO) put his many skills on display Monday afternoon at the Joe Hand Gym in Philadelphia for reporters. It is no secret why the young welterweight is becoming one of the top contenders in the sport. Jones is big for a welterweight standing over six feet tall with a heavily muscled long frame. He has above average speed and power to go along with his long range. Jones also has a reputation for being an intelligent fighter that is constantly thinking in the ring.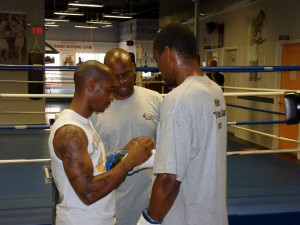 Trainer Vaughn Jackson talked about Mike's skill set.
"He brings a lot of speed and a lot of power. Mike is a fighter, very tough in the ring, he is getting better, getting smarter. He is learning how to control the ring. How to stay behind his reach and keep his energy."
Jackson also discussed the time table for Mike that after a couple more fights he will be ready. Jackson did say that if the call comes for a title shot after Saturday's bout they are ready now and he believes Mike will one day be the undisputed welterweight champ.
Jones started the day off with the basics of jumping rope and shadowboxing. He then moved into the mitt work with trainer Vaughn Jackson. Jones displayed his powerful left jab that he showed he could pump out two-three-or four times in rapid succession. Jones moves with a fluid motion around and the ring and looks very comfortable between the ropes.
It was on to more intense work at this point. In stepped another Philly Fighter Anthony Flores to work on drills. Jones and Flores moved around the ring taking turns pressing the action in a controlled setup. Then in stepped strength and conditioning coach Danny Davis with mitts and body armor to take a pounding. It was here that Jones put away the grace and showed his vicious side. He stepped into the unfortunate coach firing body shots with full steam on his punches. When that round was up it was right back to the mitts and drills before returning to assaulting Davis who munched tastycakes in between his being used as a punching bag to get energy.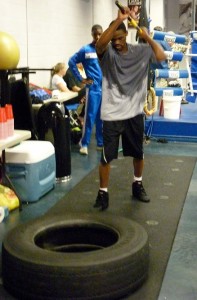 One aspect that was apparent watching him over an extended period of time was his endurance. Jones would do a round of mitts, a round of drills, a round of body punching with no rest in between and several times did the three rounds of in ring work multiple times through with no rest at all (basically at times he boxed for twelve to fifteen minutes straight with no more rest than a swig of water).
Following the ring action and a rapid fire speed bag session Jones joined two Philly fighters Kaseem Wilson and Anthony Flores who will be on Saturdays undercard in separate fights for a conditioning session run by Danny Davis. Davis walked around with a smile as he put the three fighters through grueling modern style training circuits with while mixing in old school boxing conditioning including rope drills and hitting a tire with a sledgehammer.
Analysis: Jones showed why he has the potential to be a title holder and more as he himself stated his goal is to be the unified champ of the welterweight division. As stated above he has fast hands, a strong jab, and moves around the ring even switching stances with grace not often seen from a tall fighter. What is impressive is his ability to punch with speed and power at the same time. Some fighters punch in rapid fire but they shots are pitter pat. Others fire knockout blows but the punch is delivered without much speed. Jones is one of those fighters who can fire quickly without sacrificing speed and vice versa. He also displayed a booming hook from either hand as he stepped in that could be a knockout shot.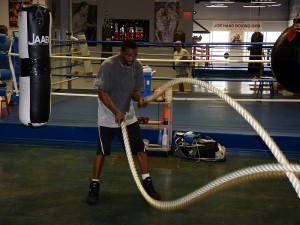 Jones has two areas that could be improved or tweaked before he goes for his inevitable title shot. Vaughn Jackson is looking for him to make further improvements to his defense.
"Defense is the key, defense wins games, defense wins championships. We can improve on our defense and once we get that everything will fall into place. His defense is good now, don't get me wrong but I don't want to see Mike take too many shots."
One more area this writer would note is the tendency to square up when unloading power shots and combinations. Jones did this when he knocked out Irving Garcia in the fifth round last year trapping him in the corner to punch Garcia into the ground. He could get away with this against a lesser foe. Against Soto-Karass in the first fight he squared up and teed off looking for the KO. Again he got away with it (at least in respect to style, not from an endurance factor) but this could be dangerous against a top welterweight. The best guys even when they are backed into a corner hurt and being attacked have the uncanny ability to fire a bomb out of nowhere. If you are going to avoid being caught in that moment you better remain conscious of defense including not squaring up as a big target giving your opponent that chance to land a grand slam at the worst time.
Jones did show in the Soto-Karass rematch that he can stay at an angle while methodically battering his opponent over the course of the fight. More of this and less square attack will be key as he advances into fighting the best in the division. I asked Vaughn Jackson if this was something they had worked on.
"Oh yeah, we have been working on that, a lot of angles, staying away, definitely been working on his defense and I see an improvement."
On Saturday against Raul Munoz 21-13-1 (16 KO) Jones is not likely to get a tough test but it will keep him busy, active, and give further opportunity to learn to perfect his craft. But whether it is sooner or later he should get that chance to get a belt and possibly even realize his goals of being a unified champ.
The event is this Saturday June 25 starting at 8pm. Tickets are available at the door for $75 and $50. Come out for what may be a last chance to catch Mike Jones in his hometown.
Video of Mike Jones open media boxing workout

To see several more videos from the media workout go to http://www.youtube.com/user/gpurf3
Question, comment, agree, disagree, or anything at all, send it to gboxing3@gmail.com
Got an Opinion? Submit Your Articles and Press Releases to be posted on NowBoxing.com
*Please refrain from leaving any Racist, Profane or Derogatory comments*