By Coach "K"
July 30th, Aviator Sports Complex, Brooklyn, NY: In the main event of Lou DiBella's Broadway Boxing "Fighters helping Fighters" card hometown favorite Gabriel "Tito" Bracero recorded his seventeenth straight victory in fabulous fashion.
The Tommy Gallagher trained jr. welterweight Bracero met Key West, Florida's "White Lion" Dannie van Staden in the middle of the ring at the opening bell and wouldn't let up until scoring his second straight win by stoppage.
Responding initially to the familiar chants of "Tito, Tito" Bracero answered Van Staden's single punches with combinations to the head and body until an early clash of head late in round one leaving Van Staden cut on his forehead only appearing to enraged Bracero.
"Tito" picked up the pressure in round two controlling the middle of the ring firing and landing with sharp combinations to Van Staden's body and head highlighted by a sharp bunch punctuated by a straight right to the body left hook to the dumping the game Floridian near the close of round two.
The third stanza mirrored the earlier two but just for a brief time as "Tito" unloaded a crisp volley of power punches dumping the "White Lion" for the second time. Van Staden again made it upright but Bracero would not let him of the hook cutting of the ring and catching Van Staden with a thunder right ending it with no count needed.
Bracero now 17-0, 3Ko's continues his climb towards the top of the division as he appears to be settling in with his newly found power. The game Van Staden falling to 8-7, 2Ko's will now get a well deserved 90 day rest.
In the co-feature NYS Female Flyweight Champion Melissa McMorrow successfully defended the title she won in June with a split decision over Eileen Olszewski scoring her second straight split decision win this time over hometown favorite Keisher "Fire" McLeod-Wells.
It was the second meeting between these two active flyweights with Wells winning a six round decision in their first meeting but the newly crowned champion McMorrow would not allow the slick Wells to repeat the result.
McMorrow started fast and kept her foot on the pedal until the closing bell. Staying low hands high McMorrow shadowed Wells for most of the bout charging in at times always coming up punching with both hands with her left hooks and straight right hands being her weapon of choice.
Wells circling using a good jab and some straight right hands had her moments trading with McMorrow at times but it was the champions relentless pressure was the difference and enabled her to retain her belt with a tightly contested 78-74 times two McMorrow, 77-75 Wells split decision win.
McMorrow advances to 6-2-3 while Wells coming up short falls to 4-2, 1Ko but no one I talked to would mind seeing a rubber match.
In the second co-feature Long Beach Long Island Irish light heavyweight Seanie Monaghan remained unbeaten making quick work of Saint Joseph, Missouri's Brian Benard.
Monaghan trained by former USA Metro President Joe Higgins entered to the sound of chiming bag pipes and the roar of a large Irish contingent becoming regular attendees at the young Monaghans fights.
Monaghan appearing focused went on the attack at the opening bell controlling the center of the ring putting Bernard on his bike. Benard's circling worked for a short while but it took the entertaining Monaghan less than half a round to catch up with the Missouri fighter first with a clean left hook, straight right combination putting Bernard on his heels then seconds later on his duff with an exploding straight right on the button turning out the lights at 1:29 of round one.
In other action heavy handed middleweight Jonathan "Conquistador" Cepeda stalked Dallas, Texas granite chinned Rahman Yusubov like a possessed brick layer doing his body work brick by brick slipping in the occasional cinder block. The bricks were coming in the name of left hooks to the head and body and the cinder blocks vicious uppercuts all landing squarely.
Yusubov came to fight offered up some exciting exchanges but Cepeda's bricks were piling up until the referee rightfully seen that Yusubov was taking too much punishment calling it at 0:31 of round five. Cepeda improves to 11-0, 10Ko"s while tough Yusubov suffering his second straight loss by KO slips to 11-4, 9Ko's.
Light heavyweight action saw the return of Mastic, Long Islands power punching Joe "The Irish Bomber" Smith Jr.'s return to action following his first defeat in which he battled two and a half rounds with a shattered jaw.
Smith trained by the "Fighting" Capobianco's Gerry and Phil who added the distinguished Tommy Gallagher of "Contender" fame to the corner bringing a sense of calm allowing the heavy handed aggressive Smith to methodically break down Adrian, Michigan's heavy handed Santos Martinez with a solid performance.
Smith fighting behind a tighter defense followed early instructions from the corner taking control of the middle of the ring with a pumping jab then strategically firing in combination to the body and head and tying Martinez up without getting clipped. The turning point of the fight came in round one when Smith backing Martinez to the ropes drilled him with a piercing right that appeared to zap the Michigan power puncher opening the door for big right hands and timely hooks allowing "The Bomber" to take control.
In round two Smith continued to control the center of the ring using smart angles again backing Martinez to the ropes with heavy jabs and vicious body shots. "The Irish Bomber" staying behind a solid defense increased the flashes of his standard offensive at one time firing a attack ripping left hooks and right hands to Martinez body until a final right to the body ended it at 2:40 of round two. Smith improves to 7-1, 7Ko's while Martinez evens out at 2-2, 2Ko's.
In the evenings opener Brooklyn's "Notorious" light heavyweight Travis Peterkin blitzed Reidsville, North Carolina's Damon Reed flooring him three times with volleys of power shots forcing the referee to call it at 1:50 0f round one.
Peterkin remains perfect at 3-0, 3KO's while the 19 year old Reed drops to 2-71, 1Ko.
Some photos from the event: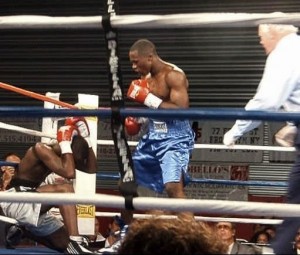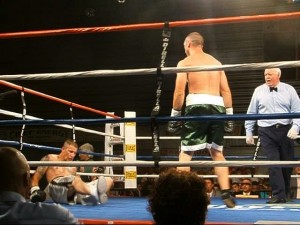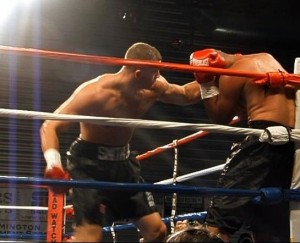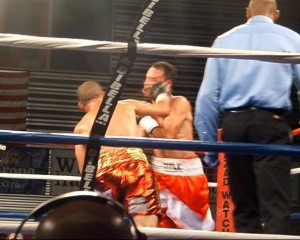 Got an Opinion? Submit Your Articles and Press Releases to be posted on NowBoxing.com
*Please refrain from leaving any Racist, Profane or Derogatory comments*