Article and Photos by Gary Purfield
KEA Promotions card, scheduled for the Arena in South Philly Friday night, suffered two major setbacks during fight week. Derek "Pooh" Ennis was originally scheduled for the main event but an injury this week took him off the card. No problem, in stepped rising Philly featherweight Coy Evans to fill the main event. But then for various reasons Evans dropped out the day of the fight leaving KEA with no headliner.
But the show must go on. Fortunately for the several hundred fans in attendance, what was the undercard came through with some rousing fights to give the fans their money's worth. While the fighters may not be well known to the casual fan they turned on hard fought efforts throughout the card and showed the best of what club fighting can be.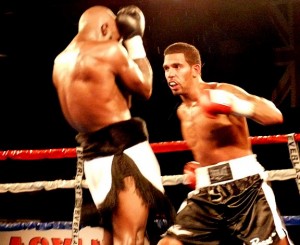 Juan Rodriguez Jr. of Union City NJ and Greg Hackett of Philadelphia found their six round welterweight fight suddenly become the main event on the day of the card. Sure both fighters were happy to be featured, but with the top spot, also comes expectation of a top notch performance. Rodriguez and Hackett were up to the challenge.
Hackett entered with his trademark mask painted Art of War and his rather unusual trunks of warrior garb that must be seen to be believed. Hackett gestured and talked before and during the fight but it was Rodriguez who accomplished more in the ring.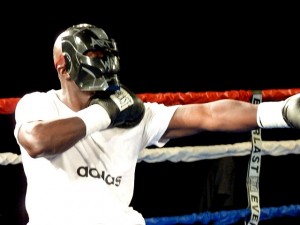 Both fighters came out looking for action and their styles meshed for an entertaining bout to end the evening. The first three rounds had fine action where Rodriguez usually got the better of the exchanges. Rodriguez frequently backed Hackett to the ropes where his smoother skills controlled the fighting. To his credit Hackett absorbed blows throughout the bout but shook them off and came back fighting.
In round four the action really heated up with furious exchanges. Rodriguez pressed the action and Hackett was more than willing to engage his young opponent. Things only got more heated in rounds five and six with the action getting better and better often drawing applause and excitement from those in attendance. Afterwards both fighters embraced in a show of sportsmanship after a hard fought battle.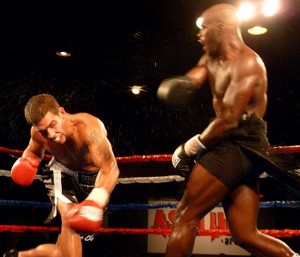 While the action was good the outcome was clear. Rodriguez 7-0 (3 KO) remained unbeaten with a unanimous decision by scores of 60-54, 59-55, and 58-56. Hackett 2-9 gave his best but was overmatched by a more skilled opponent. With so few fights actually in the city of Brotherly Love this year this fight could be an option for fight of the year considering the lack of action inside the city in 2011.
Undercard Report
In the opening bout of the evening junior featherweight Josh Bowles controlled every round over Cyprian Khumalo for a unanimous decision by scores of 40-36 on all three cards. While the fight was lopsided the action was good as both fighters were willing to trade shots. Khumalo 0-2 in a show of sportsmanship carried Bowles 2-0 around the ring after the bout. Khumalo was anything but a loser on this night as it was announced his wife had just gone into labor.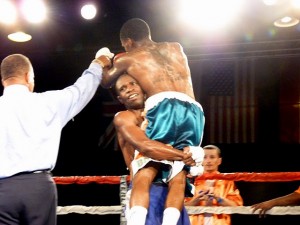 Philadelphia Heavyweight Georgiy Guralnik wasted no time attacking Damian Richardson of Washington DC in their scheduled four round contest. Guralnik attacked flinging both hands at his opponent. Both men were firing but Guralnik got the better of it by far. Near the end of round one Guralnik 2-0 landed a big right that staggered Richardson 0-2 who was saved by the bell. However he was unable to continue and the fight was halted between rounds.
New Jersey heavyweight John Lennox continued the heavyweight brawling in the next bout. Taking on game challenger and last minute fill in (yes the promoters had their hands full rounding out this card) Jason Pauley of West Virginia. Lennox brings a crowd with him that is very vocal with many sporting shirts stating "the Breed John Lennox".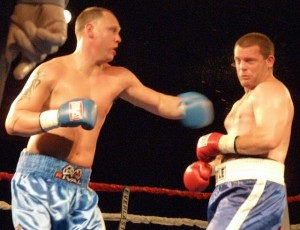 The big man did not disappoint his fans going after the substitute opponent to land heavy blows in rounds one and two. Pauley had his moments as well, especially with a counter left hook that found Lennox's head quite often. Lennox 6-0 (3 KO) backed his foe into the ropes in round two to pound away and send Pauley 5-5 (1 KO) to the canvas. The brave sub would rise but had no legs and referee Hurley McCall waived it off at 2:10 of round two.
More heavyweight action followed in the one bout that was not filled with action. Jose Luis Roque of Miami, FL came looking for a fight but was not going to get one from Taffo Asongwed of Montreal Canada. Roque pursued his opponent to get the action brewing but Taffo was content to dance the ring for the most part and avoid being hit. At points Roque's frustration showed as he dropped his hands and taunted his opponent to fight.
Things almost came to a boil when the bout ended. Asongwed 2-8-7 went to congratulate his opponent but Roque was not having it. His frustration was high over not getting a fight and both fighters had to be separated. Roque 4-0 (3 KO) took the clear unanimous decision by scores of 40-36 on all three cards.
In the final undercard bout Ardrick "The Hitman" Butler of Philly took on William Wilson who had journeyed to Philly from North Carolina. The two boxers continued the theme of going to battle putting on a good six round welterweight fight. Butler was in control most of the bout. He had his best round in the second frame when he staggered Wilson early and then dropped him to the canvas with a straight right. Wilson rose to his feet and survived the round.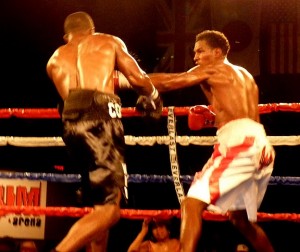 Butler continued his control through five and half rounds primarily landing his jab and straight right with ease. Then midway through round six Wilson turned it on for the come from behind knockout. He pressured the tiring Butler pounding to the body and head. It was too little too late for Wilson 8-8 (4 KO) but his rally added some late tension to an already entertaining bout. Butler 7-4 (3 KO) took the unanimous decision by scores of 58-55 twice and 59-54.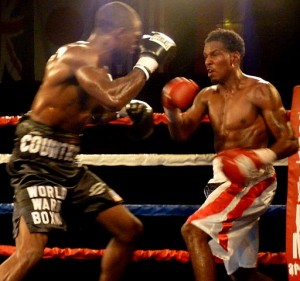 For a full photo recap of the card including the ring garb of Greg Hackett visit https://picasaweb.google.com/111668600900883893517/KEAArenaBoxing72911?authkey=Gv1sRgCICs-oHxtZmEzwE#
Question, comment, agree, disagree, or anything at all, send it to gboxing3@gmail.com
Got an Opinion? Submit Your Articles and Press Releases to be posted on NowBoxing.com
*Please refrain from leaving any Racist, Profane or Derogatory comments*